Posted on August 20, 2017 by vicki
At about 8am we climbed off the coach that had driven us and other cycle tourists from the UK through the night to make various drop offs throughout southern France, retrieved our bikes and panniers from the trailer and set off with three immediate objectives:
Buy map
Find croissants and coffee
Find croissants and coffee
Our drop off point wasn't quite in the centre of Orange, but the neighbourhood was waking up and people were strolling by in various directions, their arms full of baguettes. The errands were easily dispensed with, and the boulangeries plentiful, so we were soon enjoying breakfast with the promise of a warm, sunny day to come.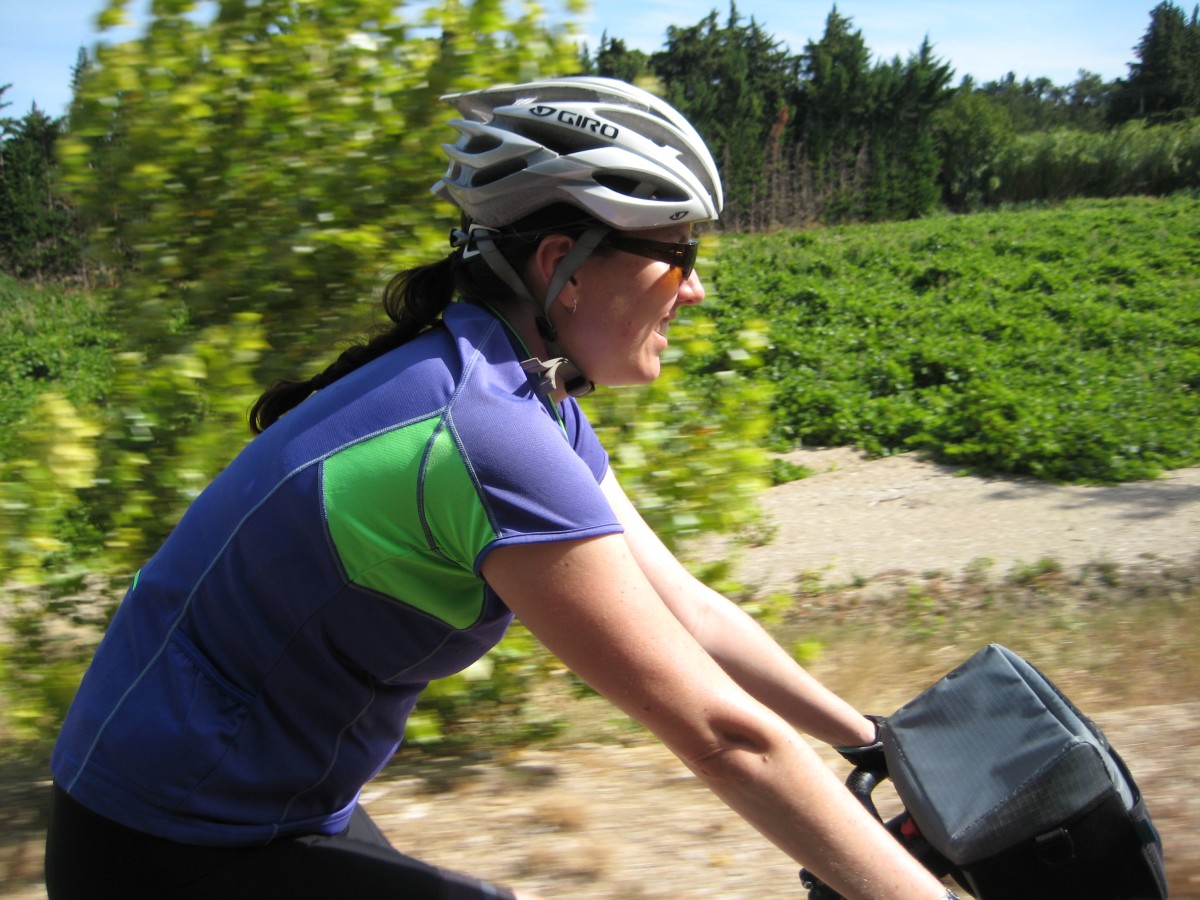 Our route took us east out of town, on quiet road through the fields. We followed a straight, flat dedicated cycle route on a re-purposed railway line - it was up high which gave nice views of the surrounds (including Mont Ventoux, which loomed large in the landscape for several days, but was not on our route). We passed a couple of aqueducts, which is always exciting.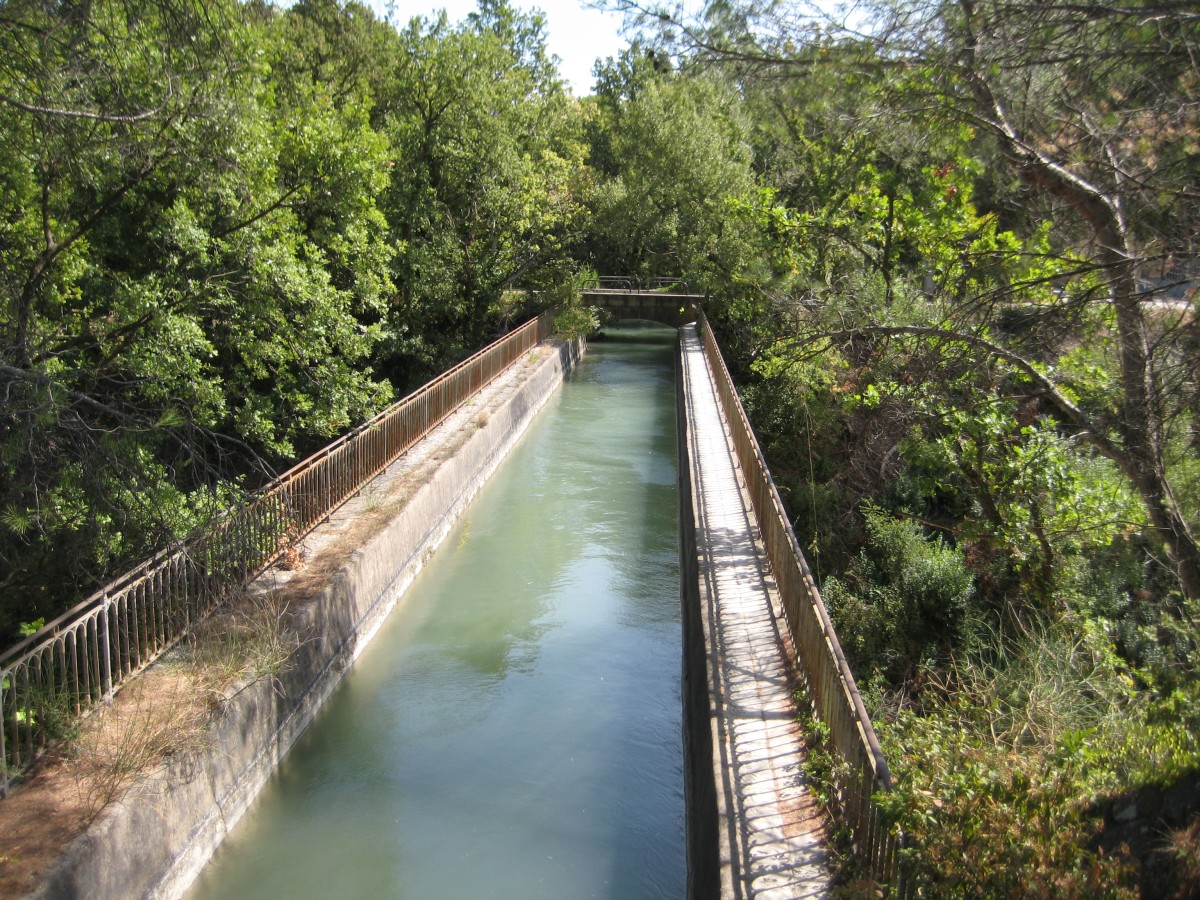 We got to Carpentras around lunch time - the town was pretty deserted. We chalked it up to Sunday trading hours, but as we rode out of town we passed a market teeming with people - guess that's where everyone was.
From here we were into a wine region, and began cycling up our first real hill of the trip, towards La Roque-sur-Pernes. The switchbacks felt like hard work in the 30 degree heat, accustomed as we were to the mild English climate. Reached the top (a mere 300m or so of elevation) with a disproportionate sense of accomplishment. After a little descent we were in the village of Saumane-de-Vaucluse, which had a medieval fortress at its peak. We made our picnic lunch in the castle yard, enjoying panoramic views (and strong winds) before heading on further down the hill.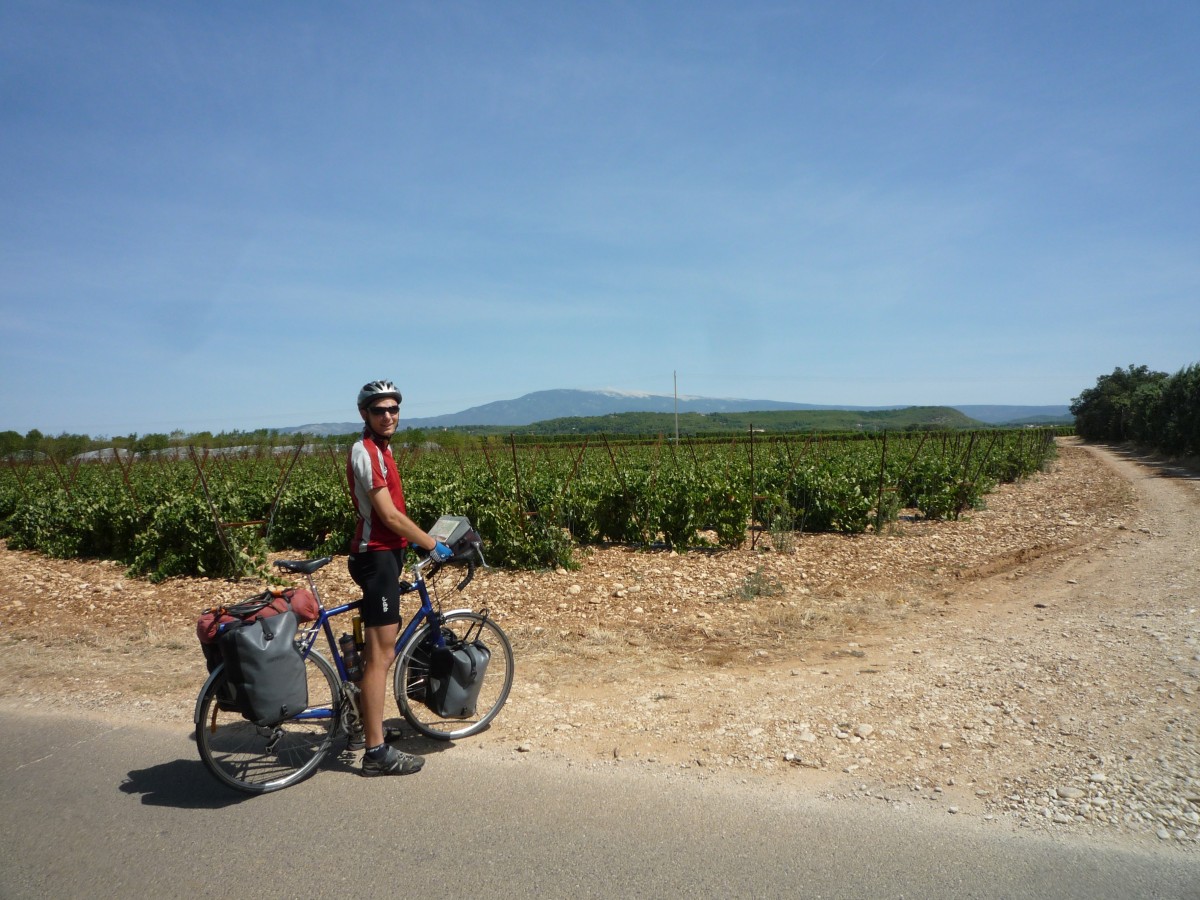 Soon after we reached the Eurovelo 8 cycle route, along the base of the Luberon mountains. The campings were all in the mountains, so we turned up in the direction of Lacoste and Bonnieux - both Roman-style towns perched atop their hills. We stopped at the campsite just outside Bonnieux, then headed into town on foot. Being a Sunday, supermarkets were closed, so after climbing up to check out the castle at the top we looked for a restaurant meal. We ended up dining in style on a terrace looking out across the valley, informed by the waiter that they did indeed offer vegetarian cuisine - simply order one of these two dishes without the main meat ingredient. So Rodney had goat's cheese drizzled in honey, I had a medley of chargrilled vegetables, and we just about managed to stay awake as we ate.