Posted on August 21, 2017 by vicki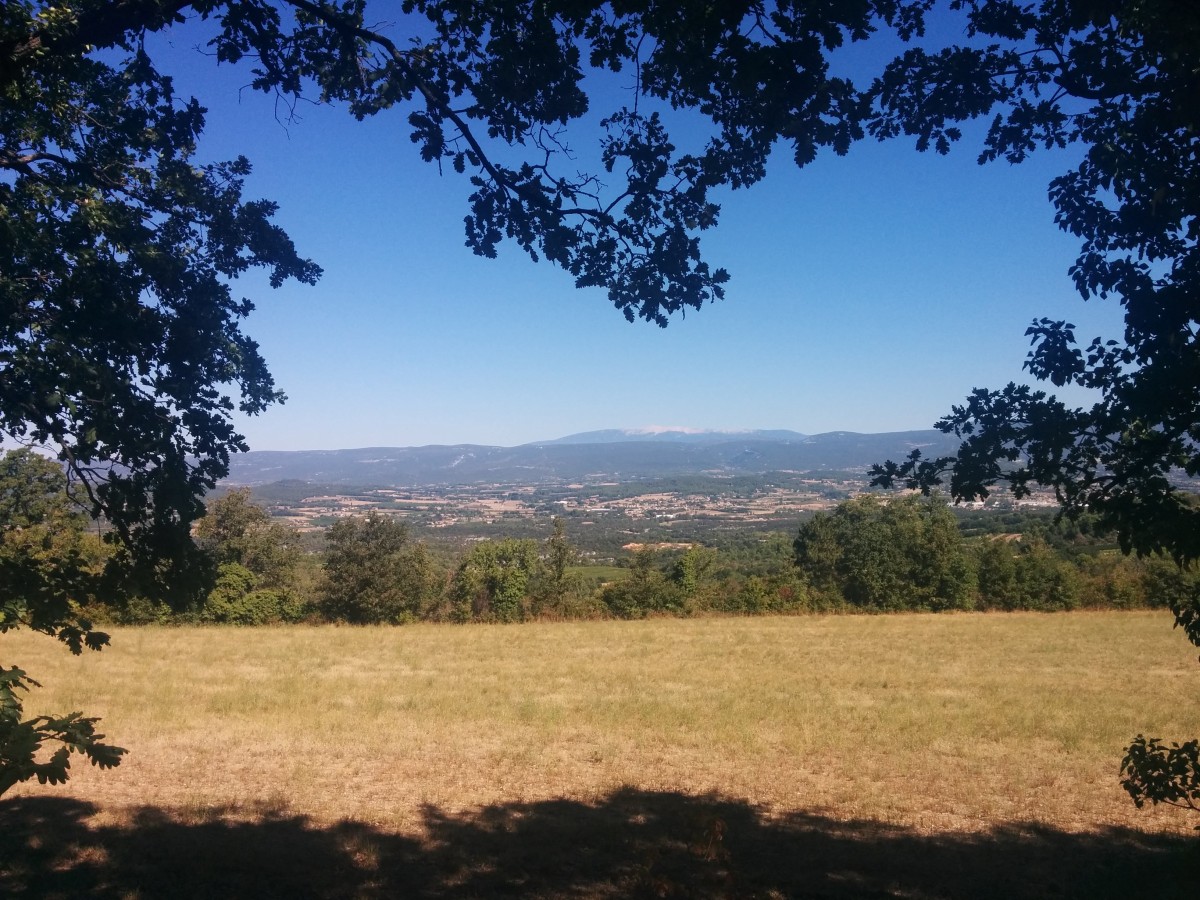 Started the day with a little climb into town to buy our groceries, and had a picnic breakfast just out of town. Because we had ridden partly into the mountains the previous afternoon, we had a nice descent through mainly farm road (but oh, so much smoother than English country lanes) to Apt. Apt is a reasonable sized down in the Luberon valley - we stopped to have an espresso.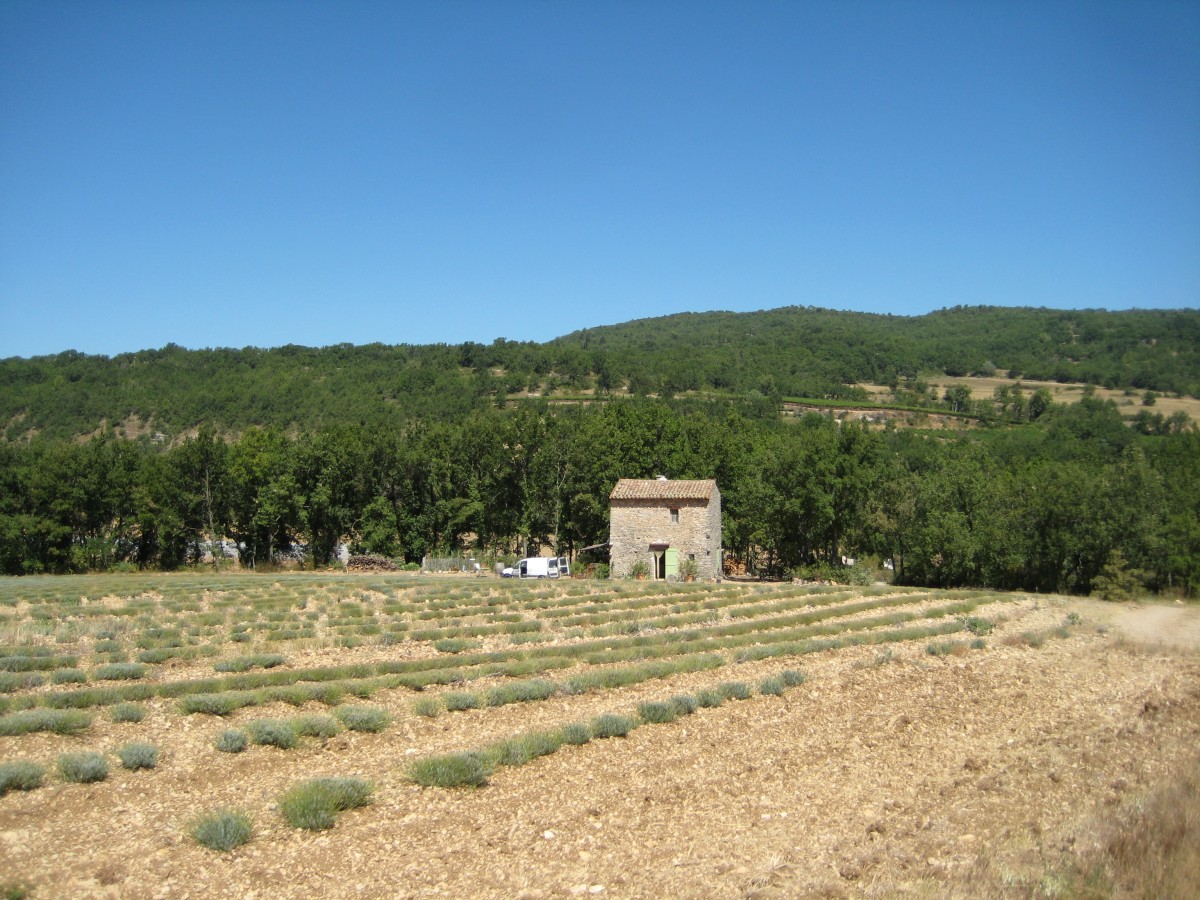 From Apt we rode along another old railway re-purposed into a cycle path for a while, enjoying the flat and even a little shade. It was getting to be a hot day. We were heading towards the Verdon gorge, which meant crossing the Durance river at Manosque. Manosque is fairly large, so to avoid the bigger roads getting in, we decided it was better to first cross over the Luberons. So at the village of Céreste, we turned off our easy (but boring) flat route back into the mountains and began working our way up the switchbacks. Ohhhh, said my legs, I remember this. It was sweaty work with no shade to be found, and we knew much bigger mountains would come, but again the sense of achievement at cresting the 696m Col de l-Aire was definitely there. Having had quite a bit of trouble with my back over the past couple of years, I was extremely happy to have experienced no twinges so far. We were hoping to go into the Alps, and I felt like I might just be able to do it.
We had a great descent on the other side into the village of La-Bastide-des-Jourdans, through sun-soaked vineyards. We filled our bottles with refreshing cold water from the tap in the square (a wonderful feature of French villages). All the shops were closed over lunch so we ate our muesli bars and kept on. We decided to follow a little cycle route marked on OpenStreetMap (we used the app a lot for navigation) around the village of Pierrevert. It ended up included some really steep sections, one of which required pushing the bike.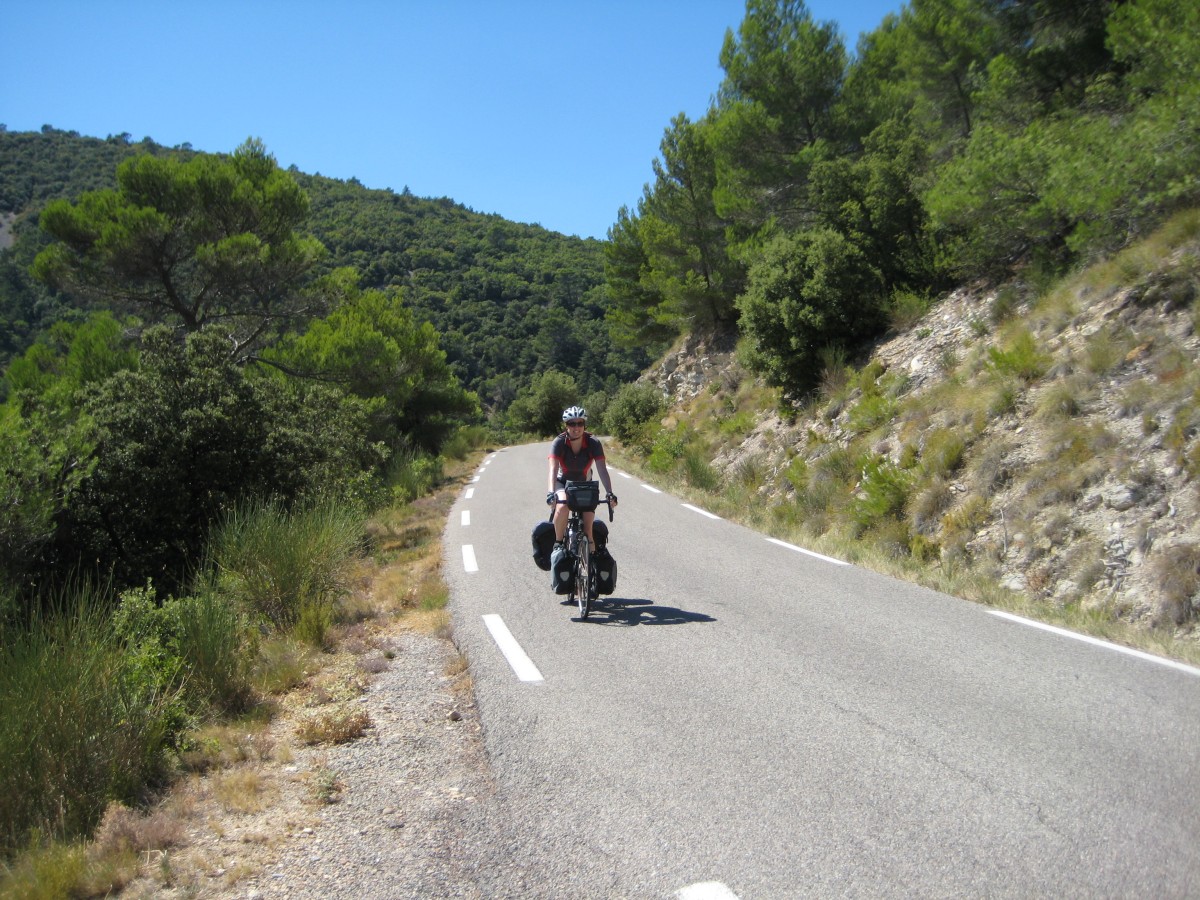 Eventually we made it to Manosque, quite hungry after skipping lunch. We got some croissants and pushed our bikes a little way into the old centre (again at the top of a hill, with archways separating the outer road from the pedestrian only streets). It would have been nice to look around more, but it was close to 5pm, and we still needed to ride a little way before the next camping. We settled on Gréoux-les-Bains as a destination - another 16km to go.
On the way out of Manosque we stopped at a hypermarket to shop for dinner, trying not to dawdle evan as we were overwhelmed with options. We rode across the big bridge crossing the Durance and carrying a far amount of traffic, then turned off on the smaller road that would take us the rest of the way. As it happened, we had to get over another hill - this one seemed to go on forever. We had a nice fast drop into Gréoux-les-Bains on the other side, however. It turned out to be very touristic, with the feel of an old spa town - large leafy parks, avenues of classy hotels. Several campsites were clustered over the river - we picked the one that advertised 'peaceful'. We thought a nice quick soak in the river might be good for our tired legs - it was icy cold and quite shallow so we sort of crouched in the water for a few minutes before abandoning in favour of a feast of hypermarket delights.