Posted on June 24, 2011 by vicki
Sunday 19/6/2011 71km dep. 10AM arr. 4PM
We got to start the day with a quick drop into the nearest town of Bevagna. Once there, we walked our bikes through the town for a look, as there were lots of people getting ready for some sort of festival. People were attired in period costume, and archery demonstrations had already begun involving targets with swinging axes in front of them. Looked like it was shaping up to be a good day.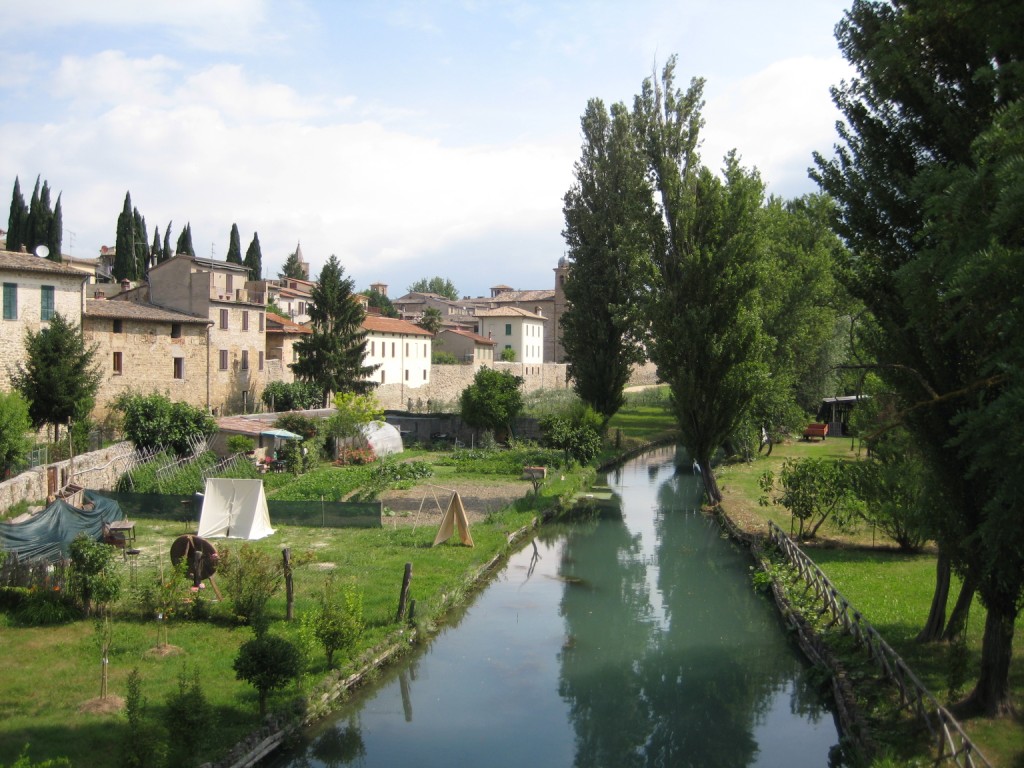 We didn't hang around too long though and were soon out of town. I would say in the countryside, but in this part of Italy all the towns extend right to the next one. On looking out from a high position, the whole area is visibly populated. Not in an overcrowded way though - it is a pleasant views of olive groves, vineyards, sunflower, corn and wheat crops interspersed with farmhouses and historic town centres. Pretty nice!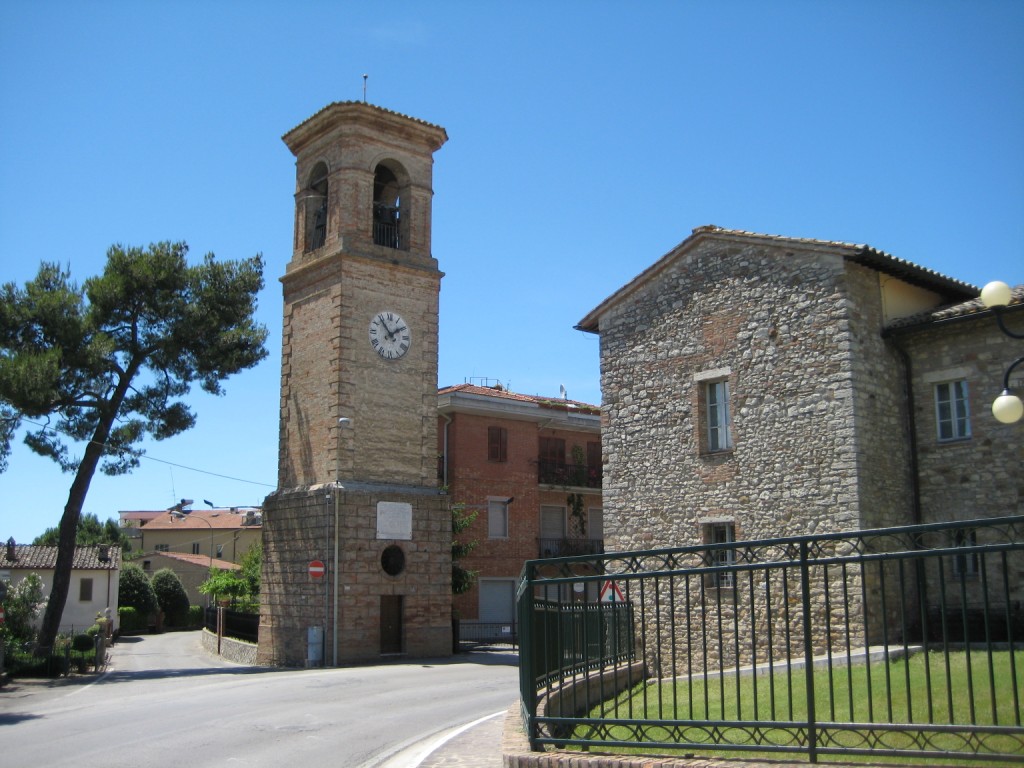 We had a few climbs during the day, and felt the heat while going up the switchbacks. Riding down the other side was very nice though, with a fantastic view and a warm breeze gently cooling us without the discomfort of descending in colder weather. One climb brought us to the small town of Bettona, at the top of a hill like many Italian towns. It was midday and the churchbells were pealing as people exited into the main square.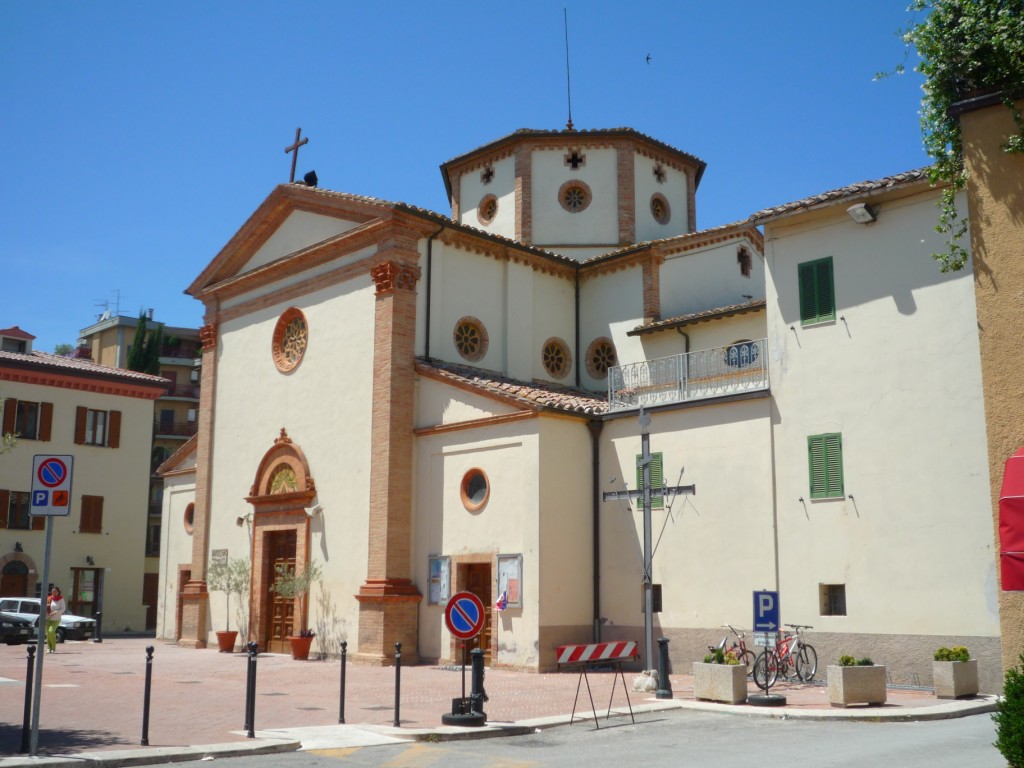 We couldn't linger for long as the supermarkets that open on a Sunday generally shut at 1pm and we had hopes of finding one in the next, slightly larger, town. So we rode down the hill, then back up the next one and found out from the tourist information centre that there were no supermarkets open in the town. The two staff members had an increasingly heated argument in Italian between them while trying to give us directions to a minimarket in a neighbouring town. One of them also kept correcting the other's English pronunciation while speaking to us. We stood there for a while, unable to interrupt, and the whole time we knew we wouldn't be going to the minimarket anyway as it was the wrong direction! We settled for gelato for lunch instead.
The afternoon brought more hills as we made our way to San Feliciano, a town on the Lake Tresimeno. It is quite a popular holiday spot and we had a list of quite a few camping options. The one we wanted to find didn't seem to exist - the 100m ahead road signs directing us to it were in place on both sides of the road but after going up and down that stretch there was definitely no campsite. We ended up at a different one, which had a packed pool complete with bar and DJ, and loads of deckchairs along the lakefront. There didn't seem to be anywhere for tents, but the receptionist told us to set up right next to the lake on a patch of grass amid the sunbakers and caravans.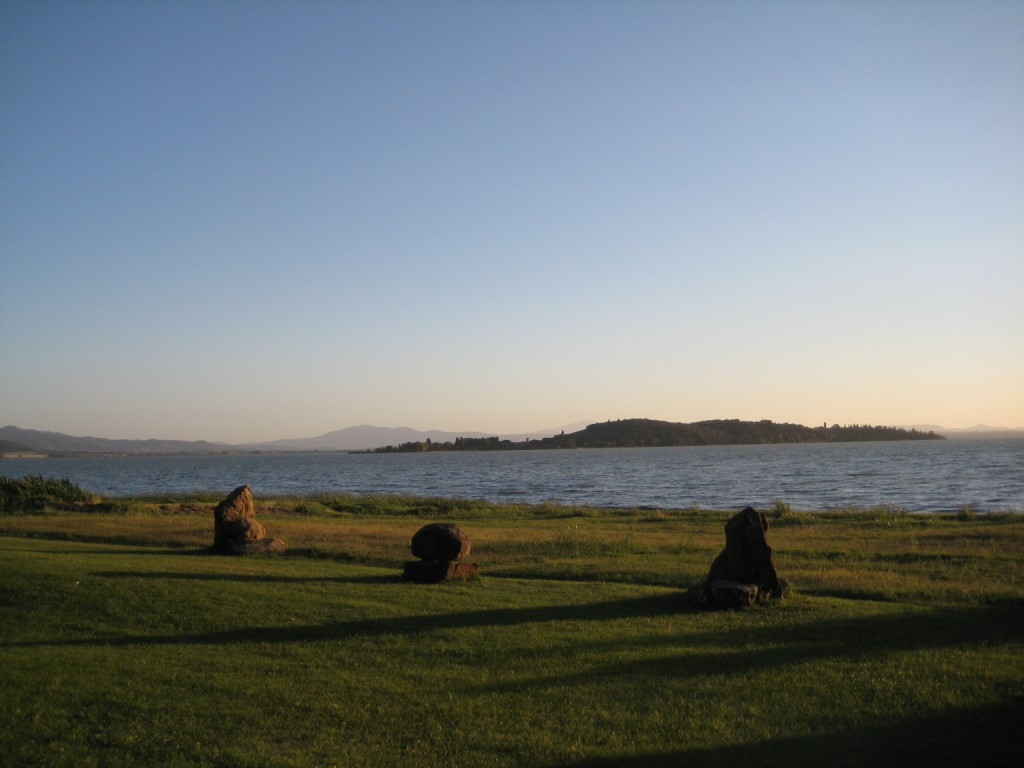 Being a Sunday night, we went out for dinner and enjoyed pizza and pasta at a restaurant a short walk down the road. There was a nice grassy area in front so we could sit afterwards and watch the sunset over the lake. We returned to camping to find the pool closed, the music off and everyone peacefully ensconsed within their cabins and caravans.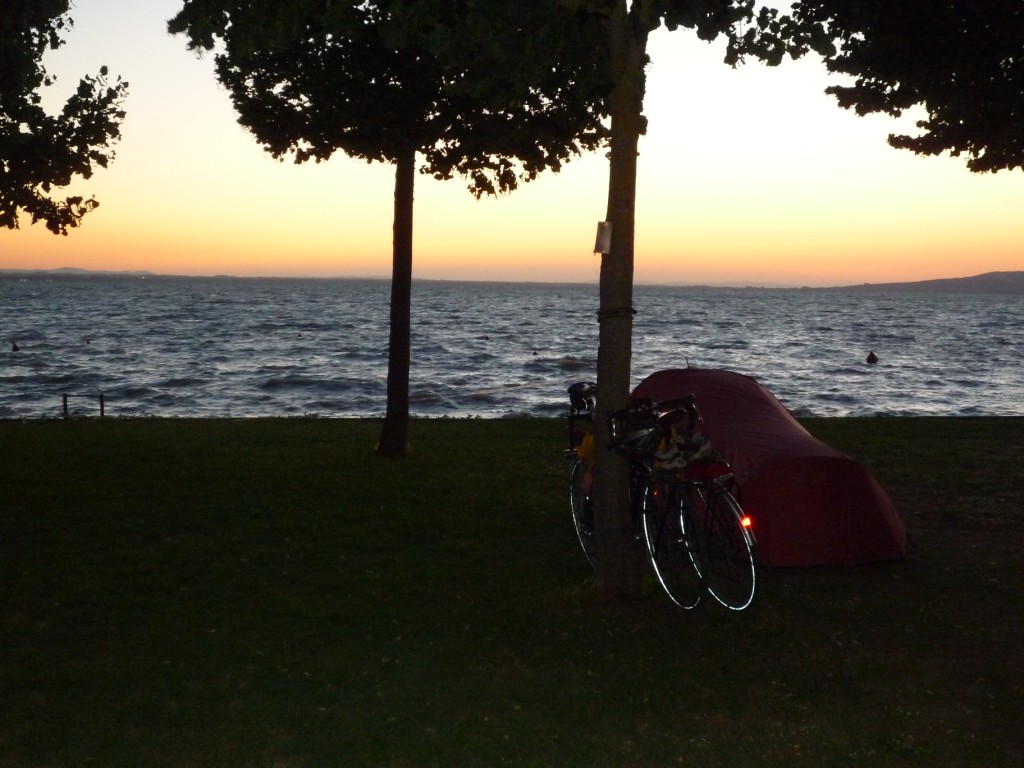 gpx