Posted on June 16, 2011 by vicki
Thursday 9/6/2011 25km dep. 10AM arr. 1:30PM
It wasn't raining this morning when we woke up. We packed up our wet clothes from the day before and set off. Cycling out of Bovec along the Soča we saw quite a lot of people having fun in kayaks and rafts.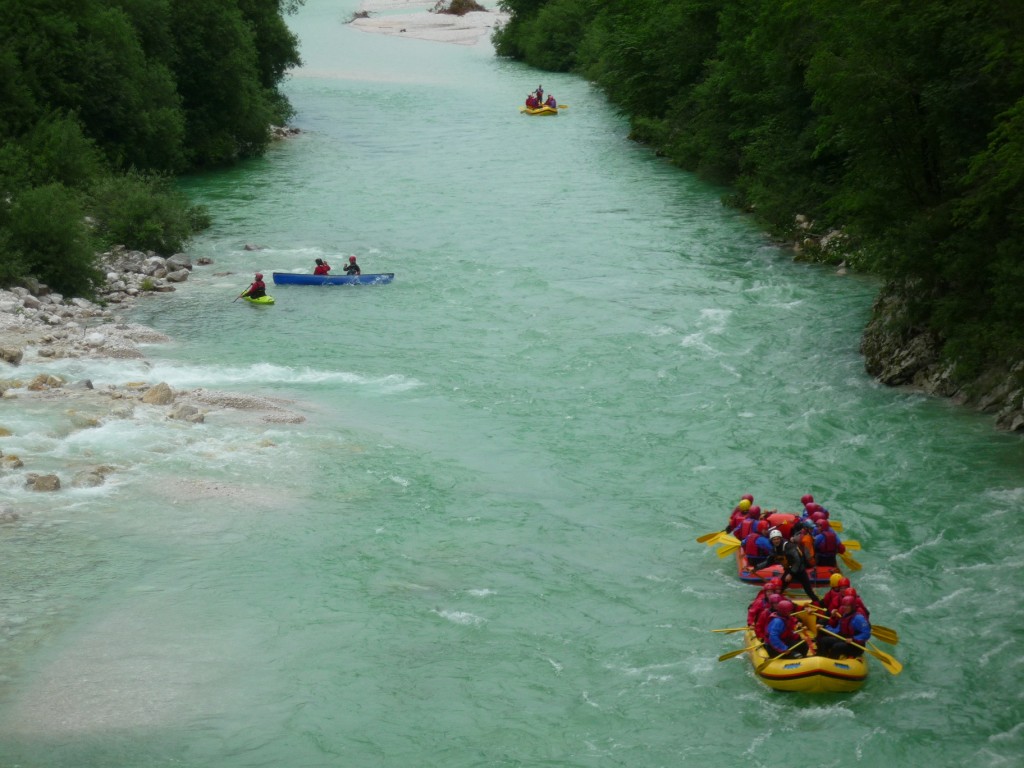 In fact, it looked like so much fun that 25km down the road in Kobarid we stopped to enquire about doing something similar ourselves. As luck would have it, X-Point, the adventure company we came to first, had a rafting group leaving in just over an hour. We grabbed a quick lunch from the bakery, pulled a change of clothes from our bags, stashed our bikes out the back and got geared up in all our neoprene glory.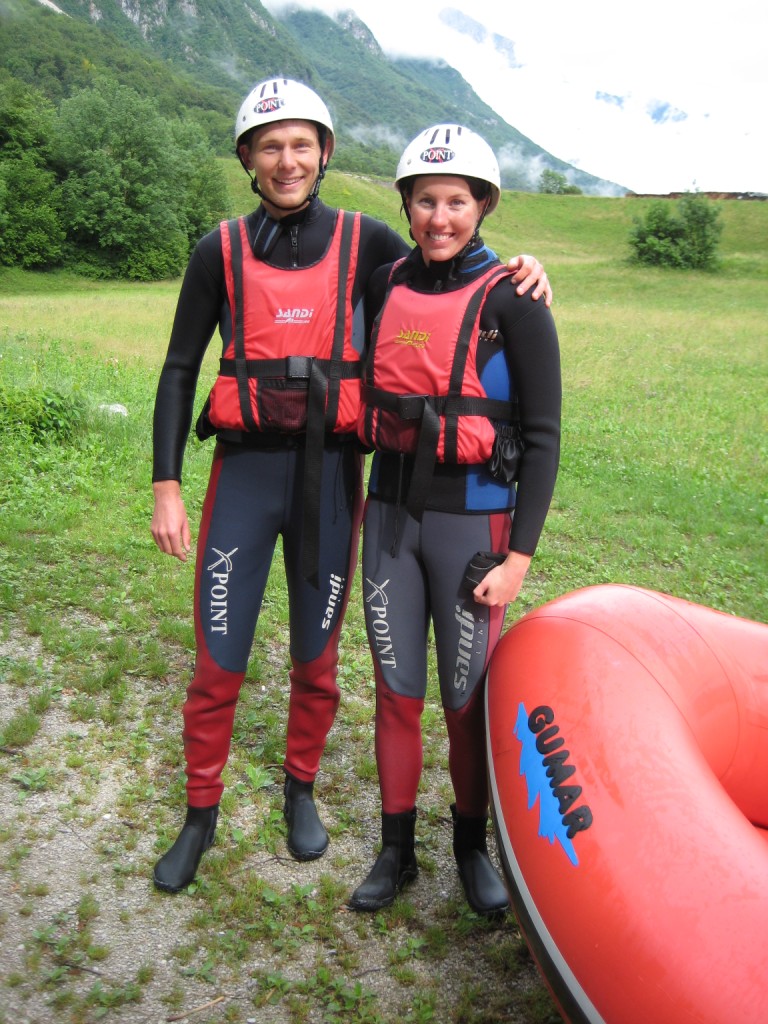 Our rafting guide was Irish, and spent the drive to the launch point telling us about how in his spare time he prefers to throw himself off 15m waterfalls in his kayak. We were joined in the raft by two guys around our age, Joseph and Hunter, who are firefighters in the U.S. military reserve and currently on a two week posting in Italy. They were pretty good fun.
The river was unusually high and fast due to all the recent rainfall. It meant that we got a speedy ride, but it didn't seem too dangerous. It was drizzling a bit - but this was much more enjoyable in a boat than on a bike! At one point where it was safe to do so we jumped overboard for a quick swim, it was pretty cold. The neoprene did its job though and kept us toasty for the rest of the time, and the only swims taken were voluntary.
After returning, and being treated to a nice drink by our new friends, we went for a quick drive with them and Damien, our guide, to see the Napolean Bridge in town, named so as Napolean's troops marched over it. The bridge is 22m above the water (only 20m on that particular day), and local thrill-seekers like to jump off it and get swept down the river to a point where they can climb out. It sounded pretty awesome, but I guess a broken limb would put a bit of a downer on our bike tour.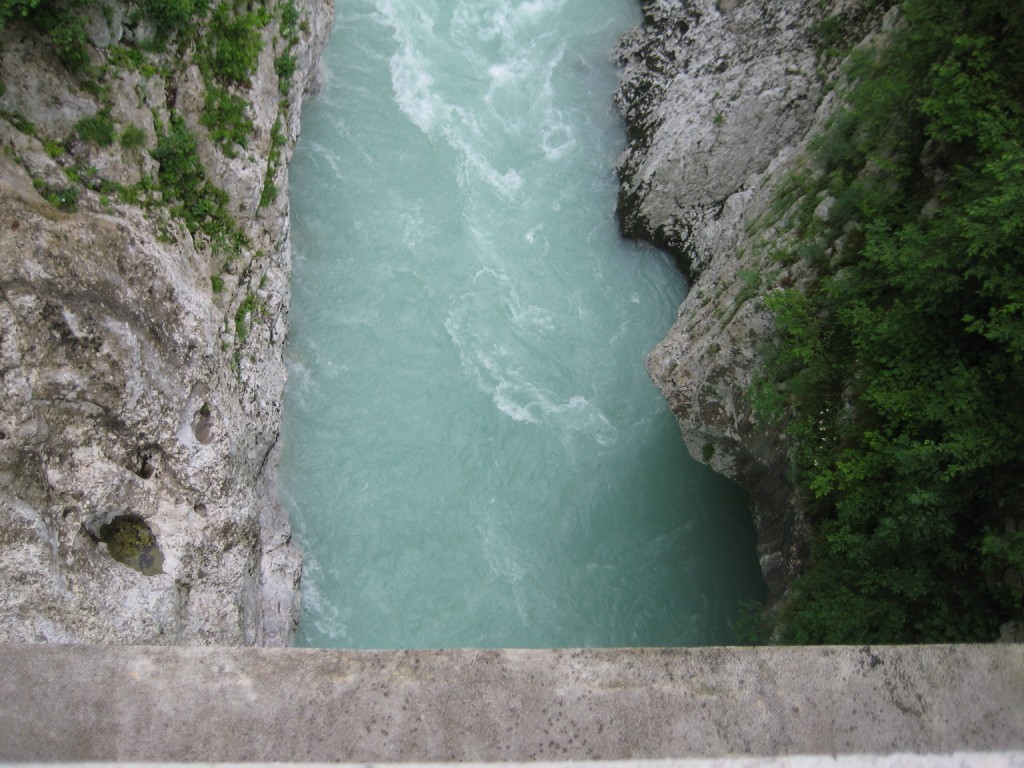 The campsite was actually very close to the bridge, and we got to fall asleep listening to the sound of the Soča rushing past.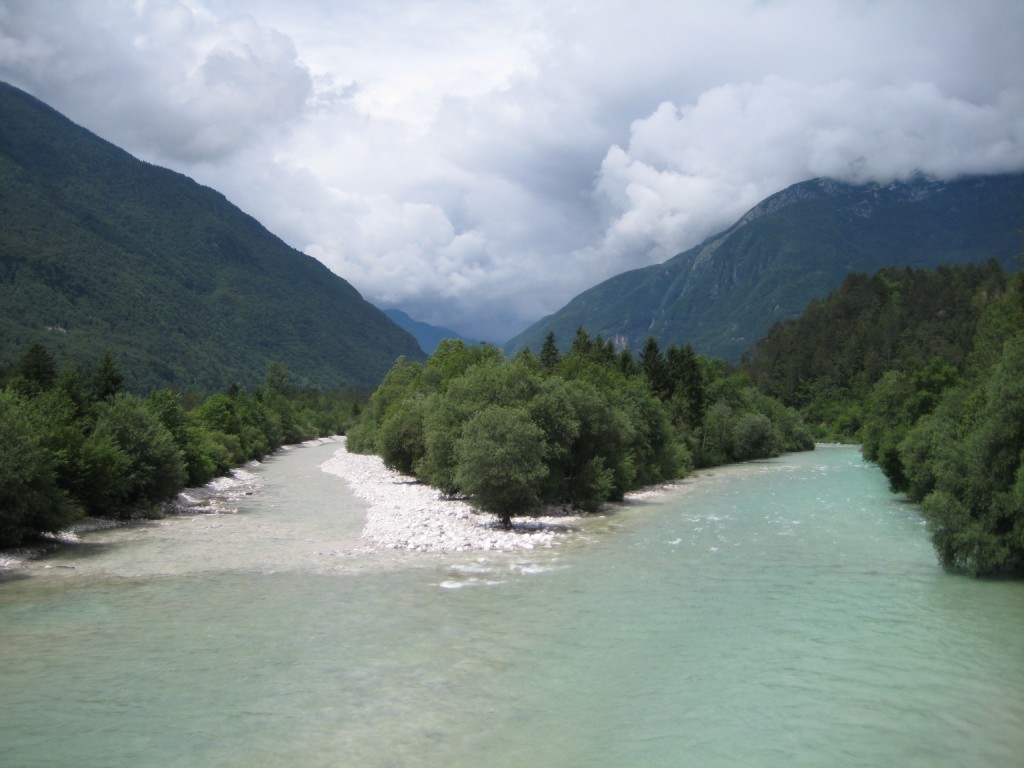 gpx