Posted on June 7, 2011 by rodney
We spent two days in Bled the enigmatic lake side tourist destination – seeing the mountains and refilling the fuel tanks with biodiesel (pizza).
Walking day Sunday
We decided to go for a little tramp up the hills so we left our bikes in town and took the bus out to the nearby lake Bohinj. While we were figuring out the buses at the bus station, the man from the tour bookings office gave us some advice for free – that it would be stupid to go out hiking in the mountains without proper hiking boots. Perhaps an alternative would be a nice easy 4km walk around the lake or taking the cable car up. We sort of agreed but had already set our hearts on a 6-7 hour hike to Pršivec (1761m).
We chose Pršivec and were rewarded with a beautiful day's walking. It was quite hot at first but then got cooler as we got higher in the forest. Another rainless thunderstorm came and I got a bit worried about being struck by lightning when we left the forest. After a lot of uphill but nothing too difficult we reached the peak where we could see a fair amount considering the clouds.
On the way down we passed some ice not yet melted, caves and crevices, a green mountain lake, rocks eroded by ice flows, a deer, many different flowers, etc, etc, all good stuff. Plus the weather was fine, amazingly.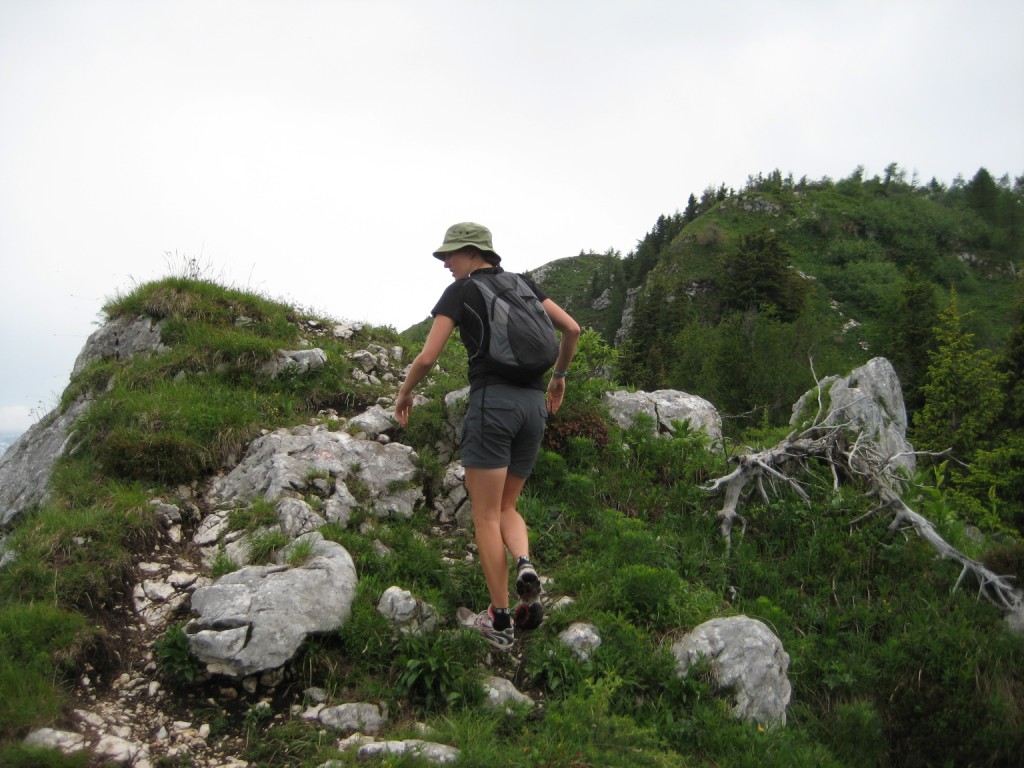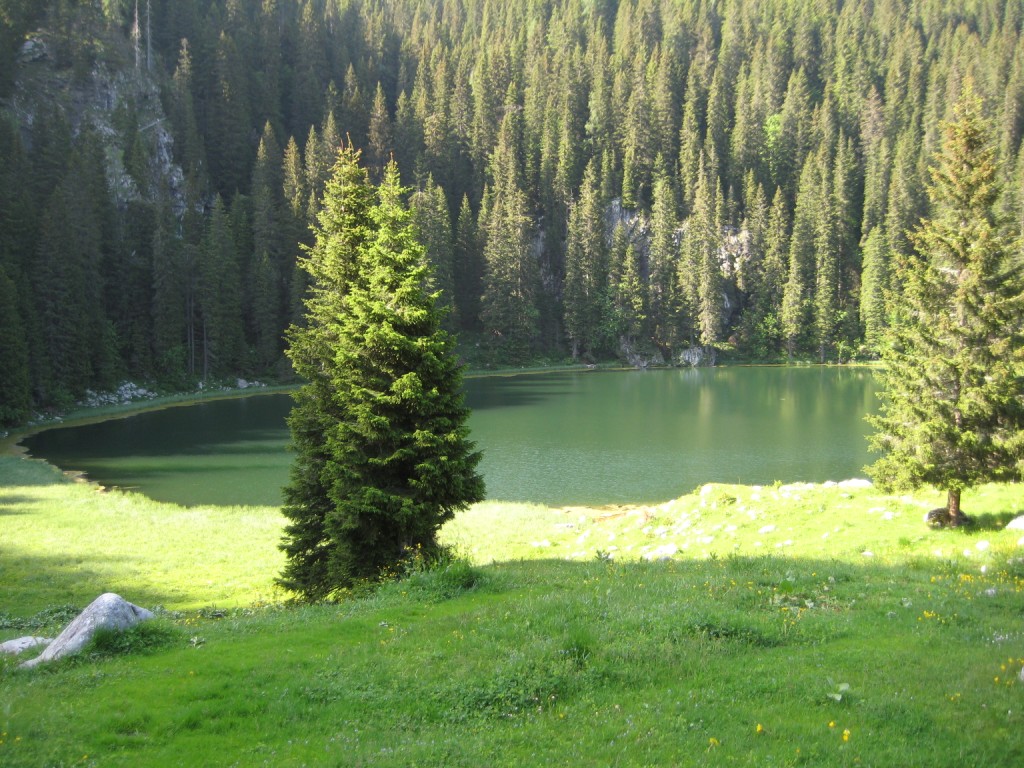 At about 6:30 we happened to be walking along the road when some other hikers we had met came in the car. They offered us a lift down to the village and saved us about 90 minutes of walking, which was good because otherwise we would have missed the last bus back. They were just about to explain to us what Slovenian food is like when we reached the village and had to get out.
So in Bled we found a pizzeria and ate a large pizza then ordered another one and ate that as well. In the evening it once again started raining, but thankfully our tent had dried out a little bit.
gpx Rest day Monday
This day has been quite rainy so it's good we aren't cycling. We did some washing then visited town to post away a parcel of excess weight. We visited a cafe which was shonky in all respects except that its umbrellas mostly stopped us getting soaked by the deluge.
We met Luke & Fiona, touring cyclists from Darwin. It was good to talk to nice people with quite a lot in common. They are going to Prague from Vienna, in sort of the same way we came.
Tomorrow we are starting our tour around the Julian alps. Vicki has got a taste for the mountains. The day after we will take the highest road in Slovenia over the Vršic pass (1611m). Perhaps it's easier to climb than pronounce, I'm not sure. Anyway I think the weather is getting slightly better, but it's definitely giving me angst!