Posted on June 2, 2011 by vicki
Wed 1/6/2011 69km dep. 9:30AM arr. 7:30PM
Today was fairly interesting. We began the day in a city full of people, but saw less than twenty people from midday onwards. We went from 200m to 1500m. On the way up the hill we were dripping with sweat, at the top we were shivering. We started in a clean(ish) hostel, ended up camping in the bush…
We left the hostel this morning and stopped at a supermarket outside the city centre to buy the basics for lunch. We were disorganised and forgot to transfer more funds onto our Travelex card before it ran out, so we had to be a bit careful with our Euros for a while until the added funds appeared.
We crossed the Drava river to the south side, riding alongside the river for a while. The hills flank the river so closely that you only have to travel a 100m or so away from it to be quite high up and experience a good view.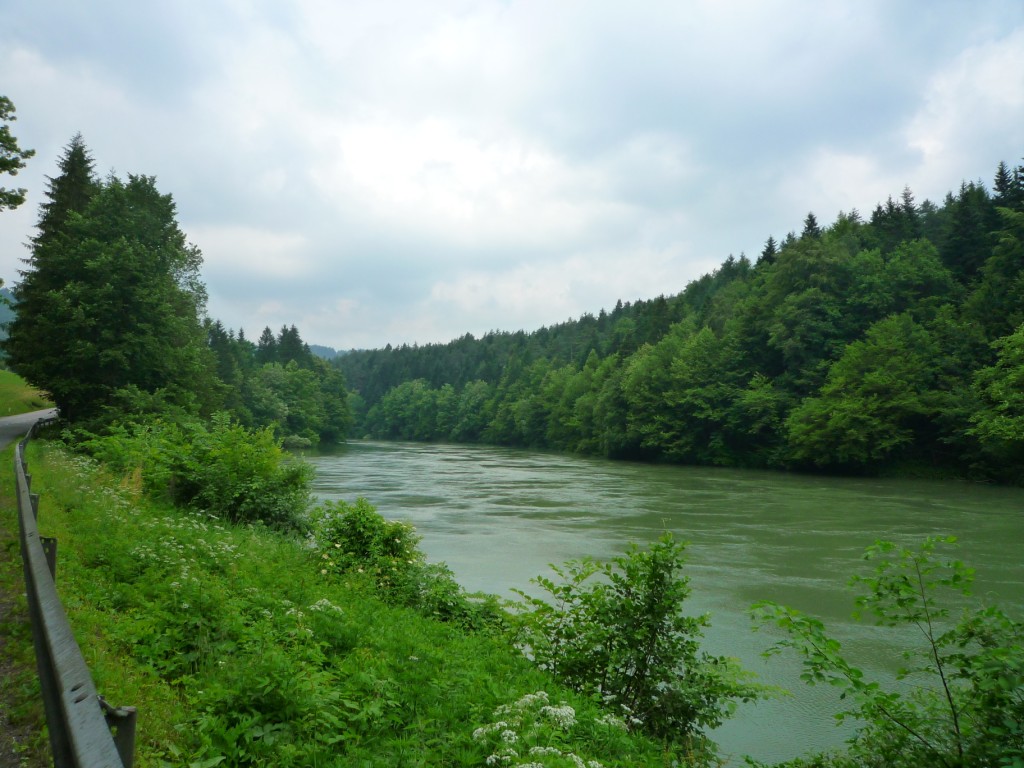 After riding pretty much with the river for about 15km we turned south and began climbing to take the mountain pass that was our route for the day. We went through Lovrenc, a small town at about 400m altitude - the last town we would see for a while.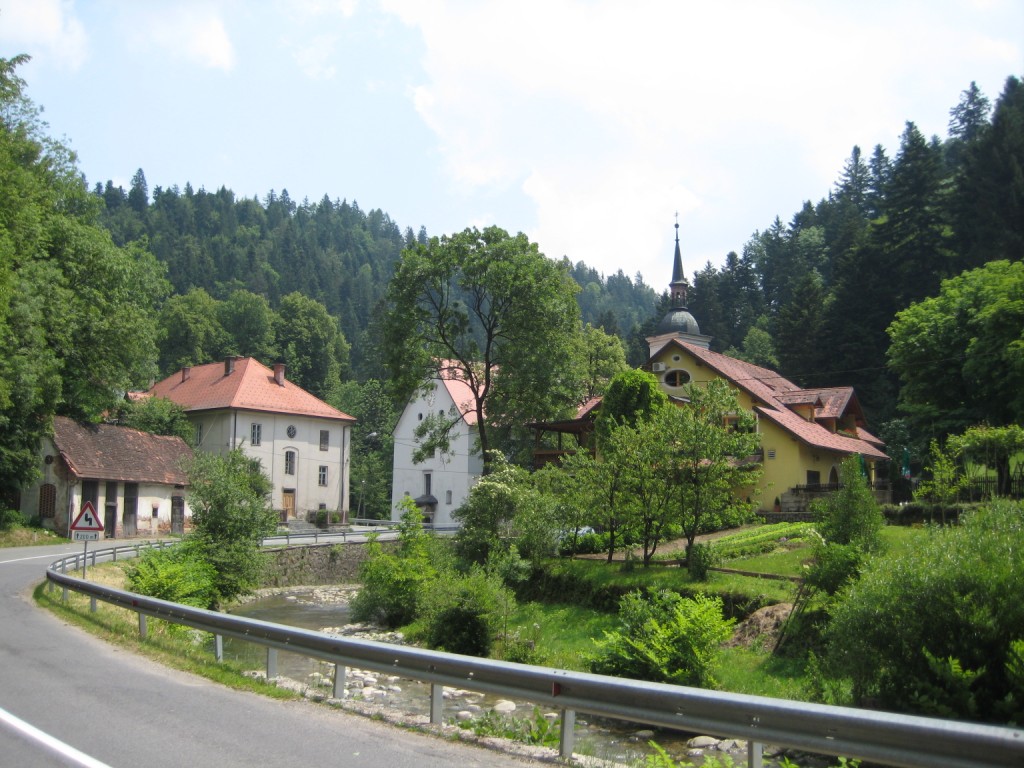 The road up was unsealed, which added to the difficulty. A lot of energy seems to be wasted when your tyres are skidding on stones, or you can't take a direct path due to holes in the road. It was pretty hot work and we had to pull over several times to give way to log trucks coming down the mountain.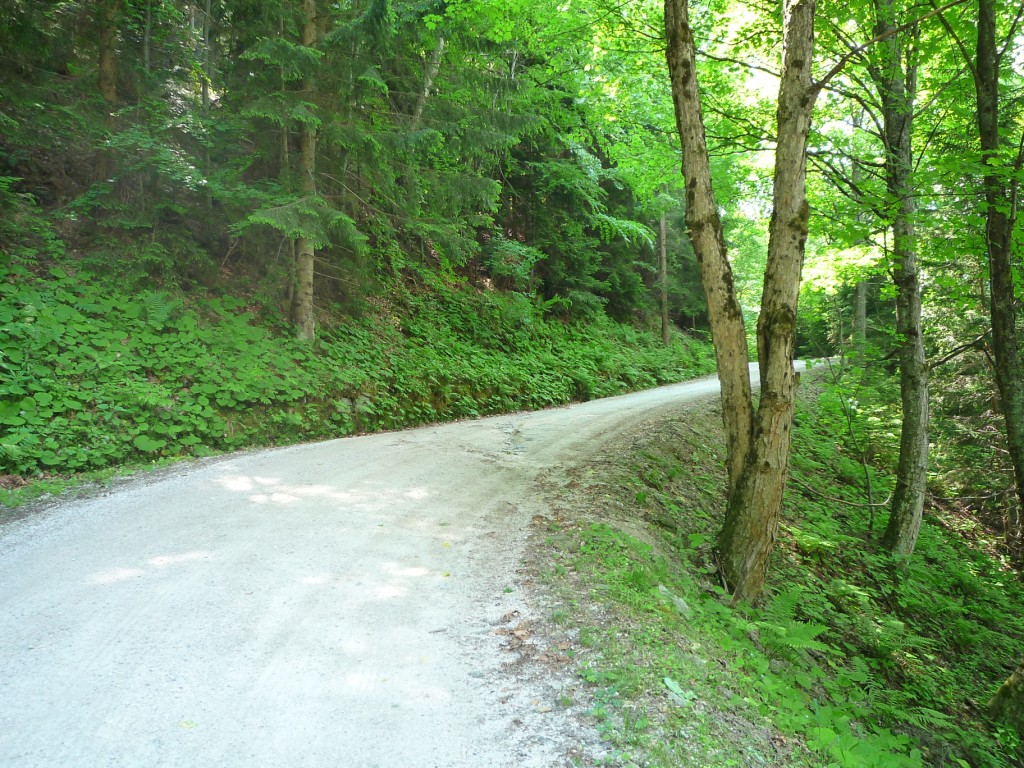 The forest was lovely though, we could hear and occasionally see streams bubbling away, there was a steep drop off to one side and we sometimes got glimpses of a pretty fantastic view through the trees.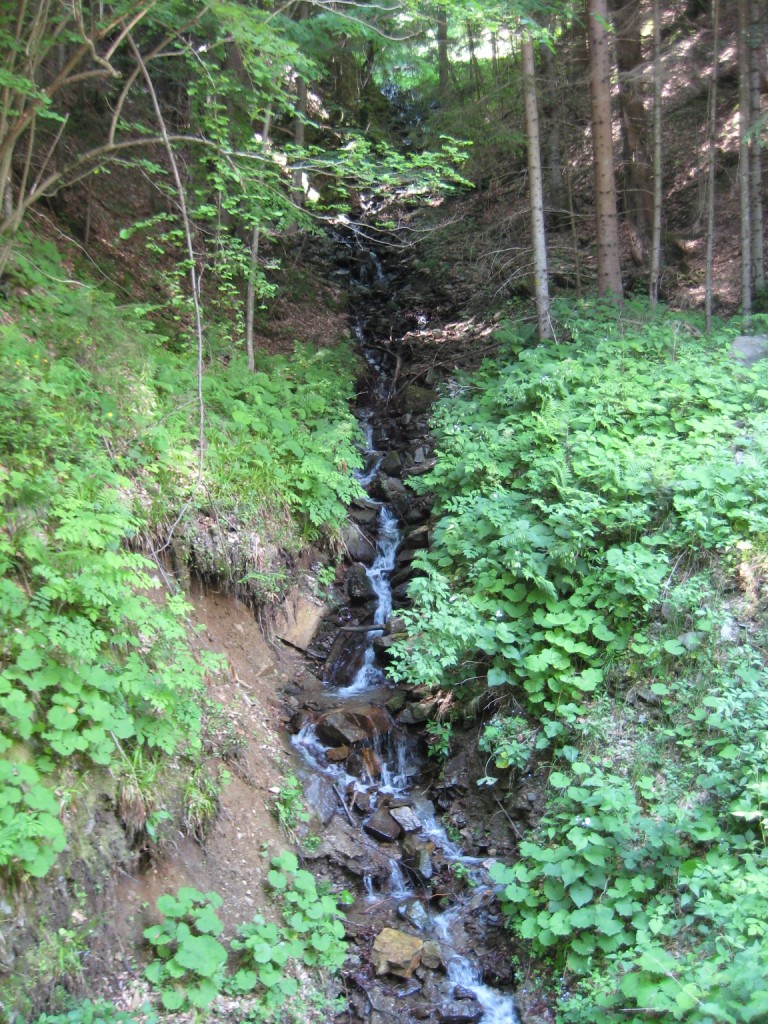 We ate a quick lunch at 900m. The flies were very friendly - we must have smelt a bit because the numbers kept increasing until it seemed like all the flies in Slovenia were buzzing round our heads. They eventually left us as we got higher though.
It got colder and colder and we climbed, and the clouds rolled in to rob us of our view. We reached Rogla at the very top (1504m), after 25km of constant climbing. It is a ski resort, and must be pumping in winter, but it was a complete ghost town as we passed through. There was a massive clap of thunder just as we reached the top to add to the eerie feeling.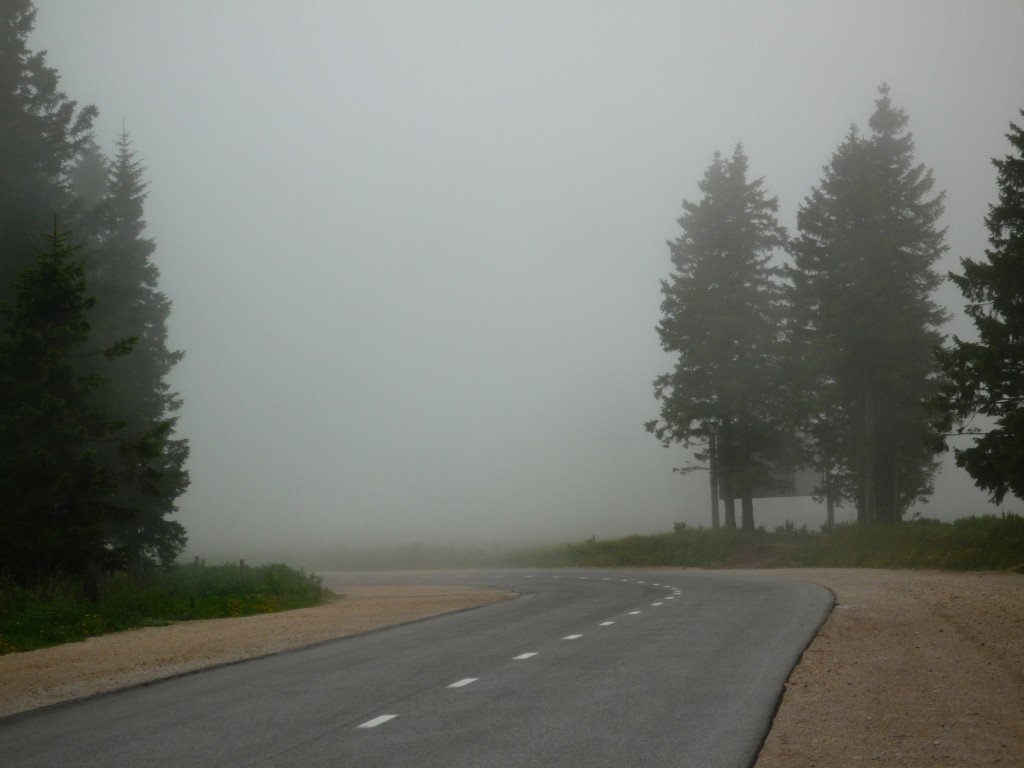 We donned our jackets and started the descent, thankfully on a sealed road this time.We dropped 500m pretty quickly¸then left the nice tarmac for a road still under construction. We bumped our way down another couple of hundred kilometres until we were partially in a valley, which is always a worry because you know you have to get out again. This proved the case as we climbed back what we had lost.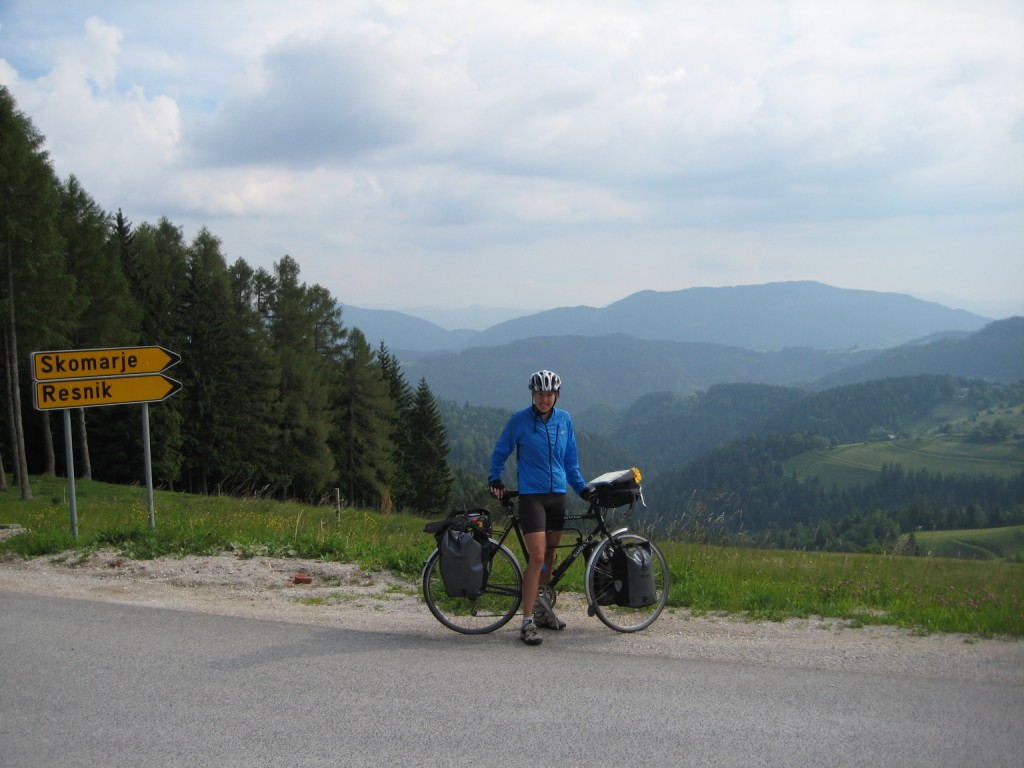 After progressing fairly slowly up and down the side of the hill, stopping every time another road peeled off to consult the map, we agreed that the scenery was magnificent, but the route would be better enjoyed earlier in the day. It was now after 7pm, we hadn't passed a house for several kilometres, there were no towns close by, the nearest campsite we knew of (there aren't many in that part of Slovenia) was at least 20km away and we had no way of knowing how hilly the way ahead would be.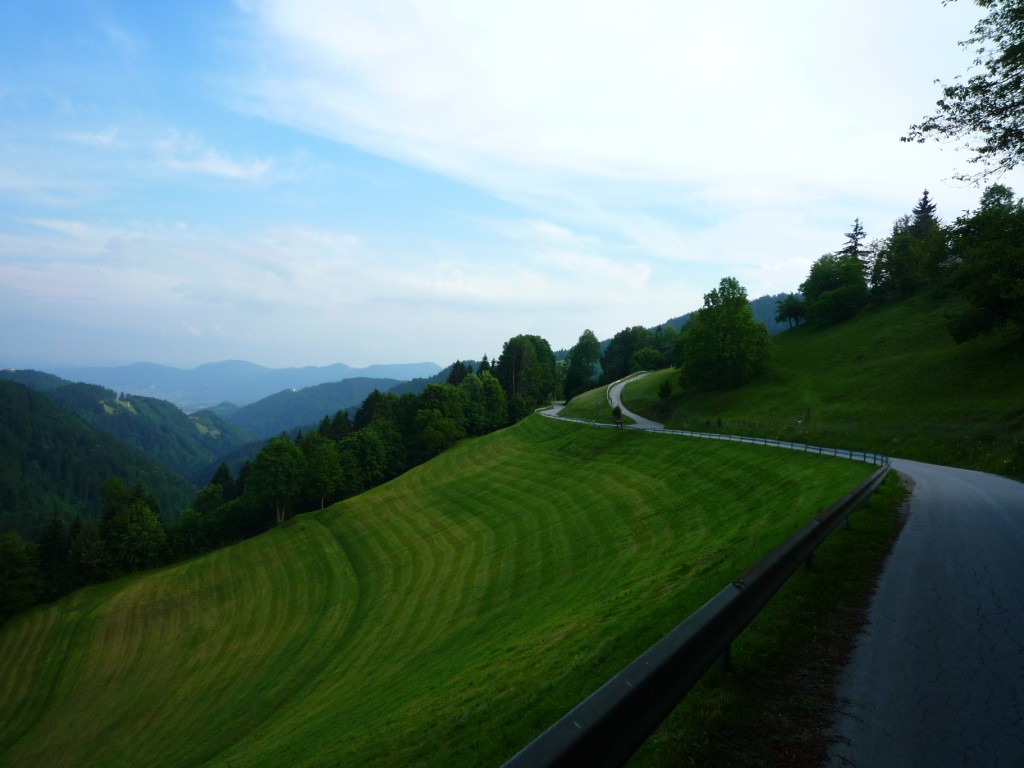 So we decided to wild camp, and found a flat section of grass down a hill a bit off the road. Rodney went off to seek out a stream for water, which we added purification tablets to. He likes the idea of 'living off the land' a bit so quite enjoyed it I think. I discouraged him from tasting the wild mushrooms he found on the ground the next day though! We had the makings of a sandwich for tea, plus we cooked up the packet of soup we had reserved for such occasions.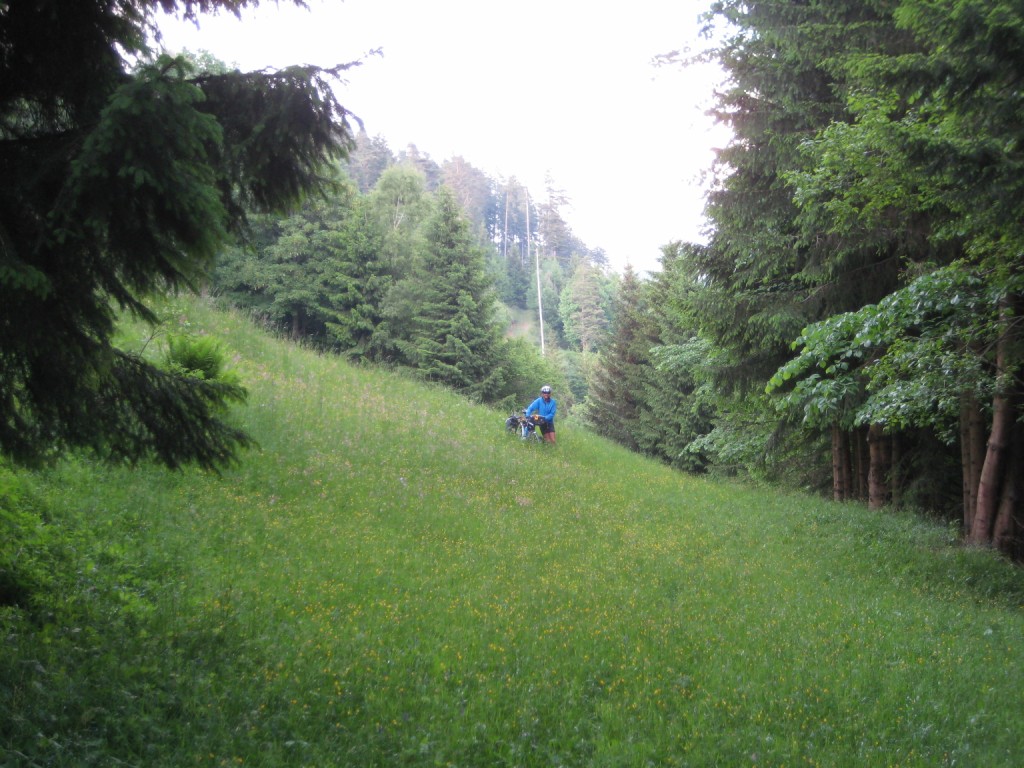 It was a really nice spot to camp. As we were getting ready to sleep Rodney started joking that there were bears in the Slovenian forest (we looked it up later and Slovenia does actually have brown bears!). But I was tired enough that sore legs and thoughts of bears weren't keeping me from my sleep on that particular night!