Posted on June 2, 2011 by rodney
29/5/2011 52km dep. 8:45AM arr. 4PM
Another warm sunny day, our final day in Austria, we still left camping with a wet tent because it was in the shade of a big hill and some trees. It was a fairly straightforward cycle across the flats to our chosen border crossing of Mureck.
Mureck was a surprisingly nice town with quite a good sports shop. Since every girl needs more shoes, Vicki bought some new bike shoes - the mountain bike type with good grip on the sole (for pushing bike up the hill) and with laces so they look like normal shoes (for grocery shopping in style).
We found the road to Slovenia and crossed a steel arch bridge over a big river into the new unknown country. Our first observations of Slovenia were that the signs were a different colour, the road had more potholes, and there was a big hill in front of us.
We spent a while going up the hill and were rewarded with some nice views. Then we had to navigate to Maribor with our 1:200.000 ADAC road map. This was not so straightforward because due to the map scale not all roads are represented, and also the placement of village names is only approximate on the map, and most aren't signed here anyway - only the district name is signed. Anyway we managed to not have to turn around at all, but there were a few puzzled stops to look at the map and try to settle our doubts.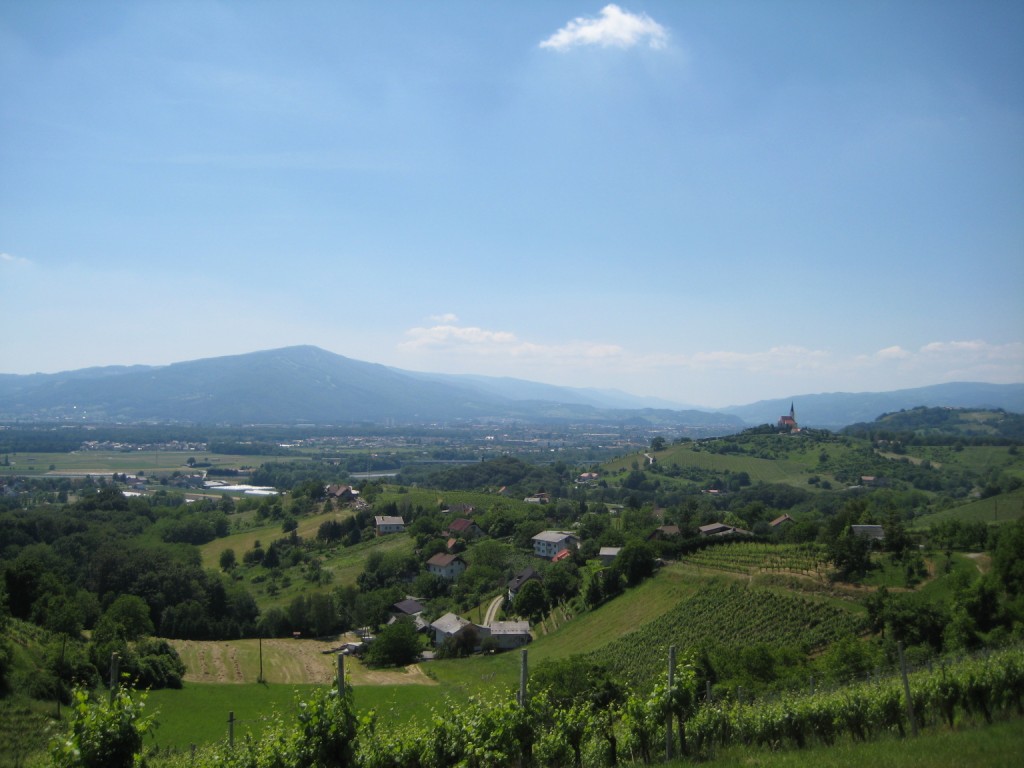 We cycled around some hilly farmland and a few small forests. My favourite way to cycle is on a ridge with valleys either side and we went along one of those. We sat down for lunch under a tree next to an orchard at the top of the hill which was nice. The valleys in this part run north to south, so going in that direction was easy, but crossing the valleys going west was difficult. There were hardly any cars at all driving around here so our trip was really peaceful.
Getting into Maribor wasn't a problem because it isn't that big. It is a cool place with lots of cafes and restaurants, some old buildings, and bridges across the Drava river. We stayed at the Lollipop hostel which is one of the two hostels in town. The hostess is June an English expat and she made us welcome into her home because actually it is where she lives and she made the spare space in the apartment into a hostel. The 5 other guests were either Australian or French.
Rest Day
We had spent a day in Maribor walking around seeing the sights, including the oldest living grape vine in the world. We had a coffee and multiple ice creams, and did some shopping at Europark - the massive new shopping mall across the river. The cool thing about Europark is that it has a go kart track in one of the unused car parks. The rest of Europark is not cool, it is just another horrible shopping mall. But I suppose they are necessary evil. We went there to buy some clothes from the sports shop (I got some sunnies at last, and some overpriced x-socks) and to get food from the massive Spar supermarket.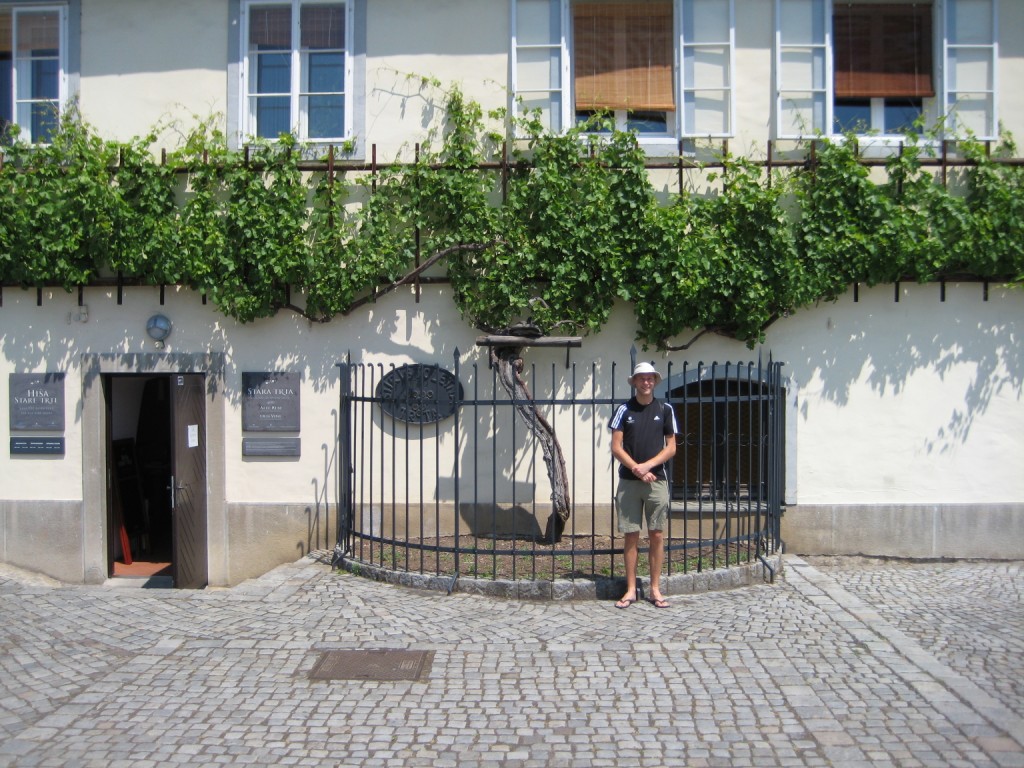 In the evening we went for a walk on June's recommendation up one of the hills behind town, up to the old site of a castle which was unfortunately destroyed after being struck by lightning, and all that remains is an archaelogical dig.