Posted on May 5, 2011 by rodney
[[!waypoint map="tour2011" lat="51.51216124955517" lon="-0.1812744140625" name="Start" icon="start.png" tag="waypoint" hidden]]
25/4/2011 87km Depart: 8AM Arrive 8PM
First day riding out of London was difficult, as expected, and possibly it could have been worth taking the train to somewhere outside the greater London area, but since there was a signposted cycle route, we tried that. Adding to our difficulties, we realized after booking our flights that we would arrive just before the Easter long weekend. So we couldn't actually buy any maps in London. Instead we made a couple print outs from the Internet and wrote down some directions to Dover.
The route we followed was signposted and I think there were less missing and vandalised signs than last time I tried it in 2007. It is called NR-1 and is in red in the map below. As you can see, it is quite windy and seems to prefer being close to the Thames bank than making a direct line south-east. Also, it often goes on footpaths which have barriers which you need to walk your bike through or lift the bike over. In summary, a less than ideal cycle touring experience. Nonetheless, it got us to the historic town of Rochester without a map, even if we were on one stage led from a shonky industrial area, to a bumpy gravel track through a swamp, past a rubbish tip, into the fairly horrible village of Dartford where the locals ask you why as a tourist you would be there.
[[!osm map="tour2011" lat="51.4686" lon="0.2073" zoom="12" width="425" height="350"]]
In fairness though, we did see some good stuff like some small London lanes and the Thames barrier and Grenwich park. But in the mind of the cycle tourist, being lost in the middle of nowhere on some random cycle path next to a system of dual-carriageways, motorways, and roundabouts, with a GPS compass being the most reliable source of navigation information, that sort of overshadows things for the time being. However we eventually got to the High St bridge in Rochester by heading in a south-east direction.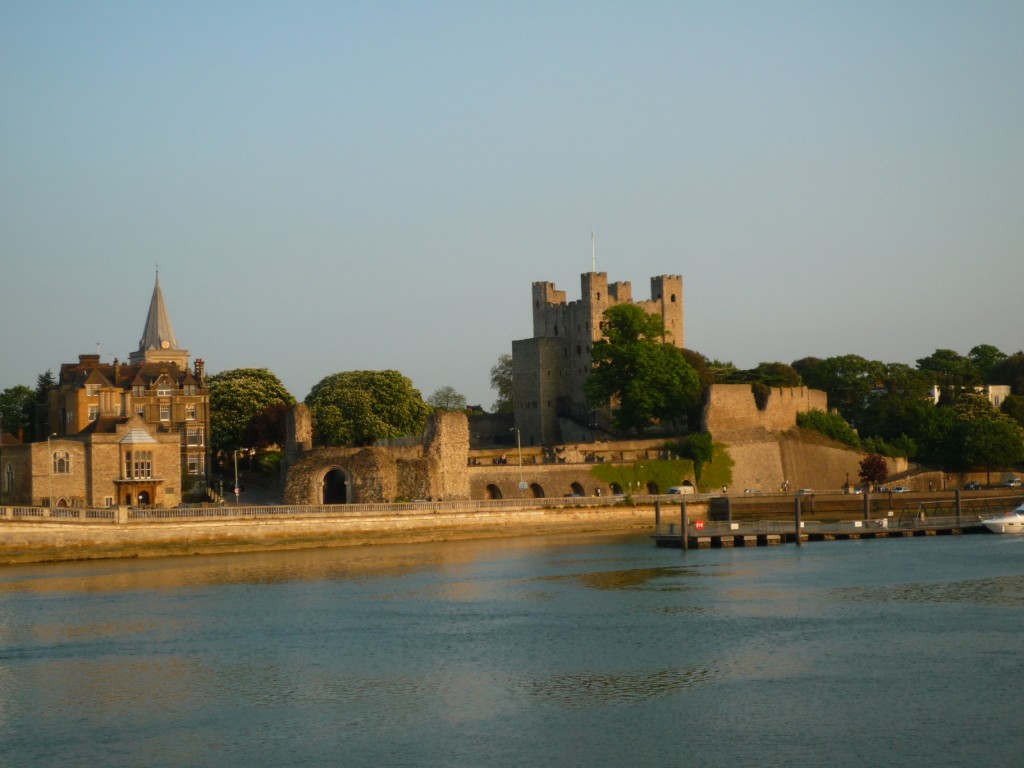 I had found a camping site listed on the web and foolishly trusted the veracity of the web page in question. So when we made the 10km trip up Maidstone Road out of Rochester, I was only mildly suprised that the so-called camping site was actually a caravans only caravan park and wasn't even open.
By now it is late and getting cold and the sun is setting, so we ride back down the hill to look for a B&B; or similar roofed accomodation. We found a Dickens-themed hotel called "King's Head," stayed in a room called "Pip," then had dinner at "The Two Cities" restaurant. At this point we sensed that there was perhaps a stronger than usual connection to Dickens in this town, however being tired, hungry, and sunburnt, we declined to investigate further.