Posted on August 23, 2012 by vicki
Day 31 17/8/12 Prizren to Pershcovcë 100km We got an early start from the hostel and followed the river out of town. We stopped to look at an old hydropower plant being restored and were given a little tour by an enthusiastic construction worker.
We then started a climb out through the gorge and over the mountain to about 1500m, dropping down the other side into a village that was ethnically Serbian. The mountain scenery was really nice and we had a second climb before we reached the Macedonian border.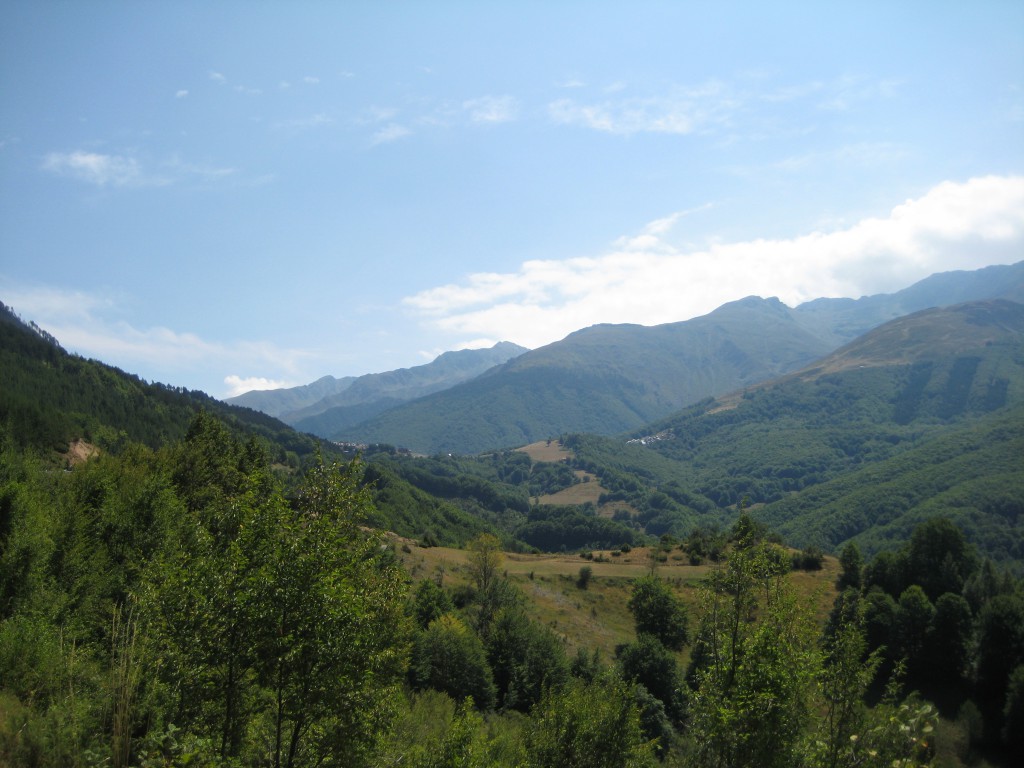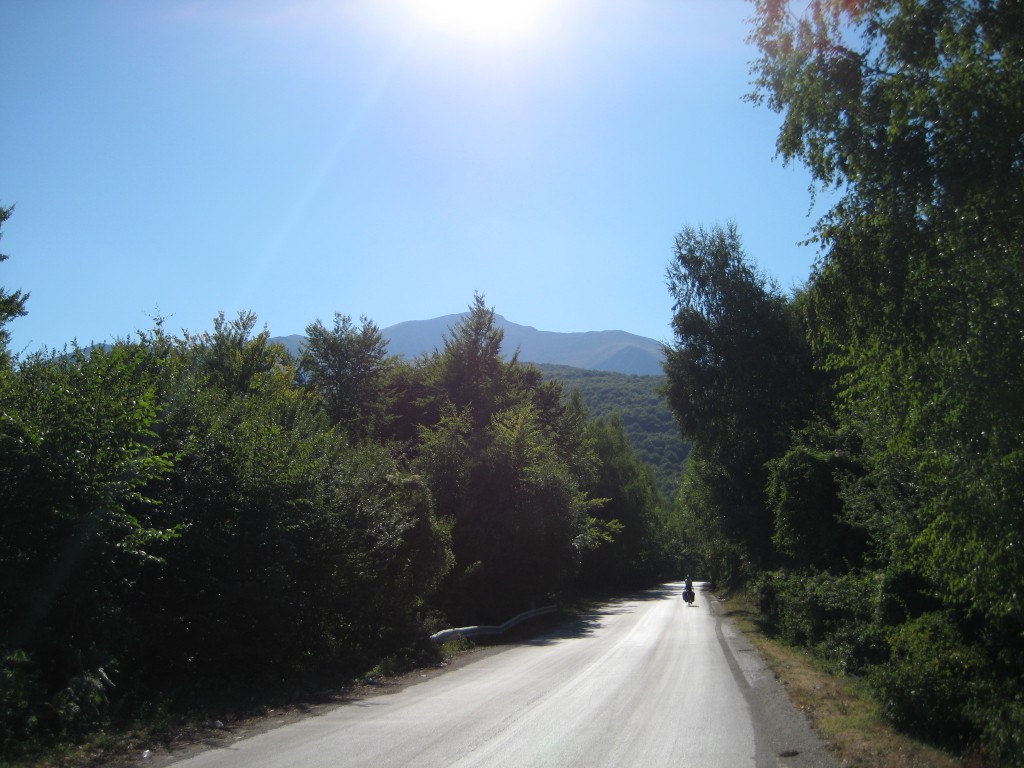 Once in Macedonia we had a nice downhill run through several villages looking for somewhere to spend the night. Eventually we found a motel which looked a little seedy but was clean enough and affordable.
Day 32 18/8/12 Pershcovcë to Mavrovo 70km From Pershcovcë we rode through an endless string of villages until we reached the larger town of Tetova. The streets were busy with people hosing down their doorsteps, setting up market stalls, drinking coffee etc.
We followed a motorway uphill from Tetova and into the Mavrovo National Park. After some more climbing we decided to stop early at the town of Mavrovo. We were directed to a particular motel by the proprietor, who waylaid us on the road.
We went for a walk along the Lake Mavrovo to the village at the end, which is a ski resort in the winter. In summer it was pretty quiet, but we had a nice dinner that included tavcha gravcha, a traditional Macedonian bean dish (yay - something vegetarian at last!) and Greek salad. While walking along the lake we saw two waterbomber planes come and fill up several times.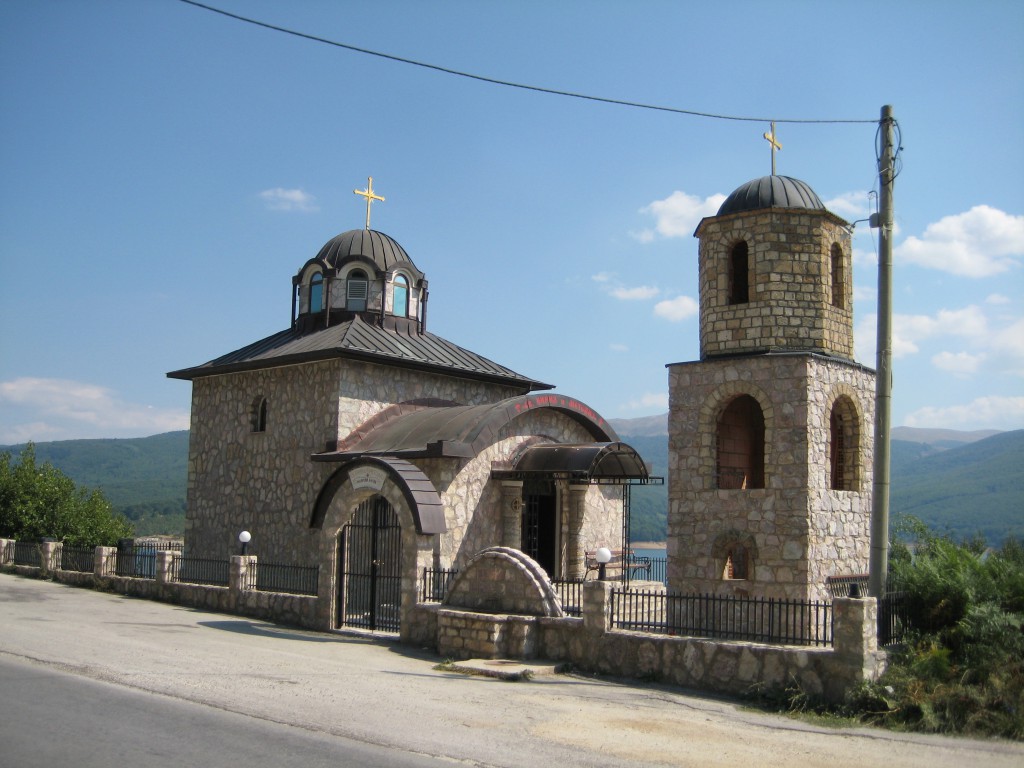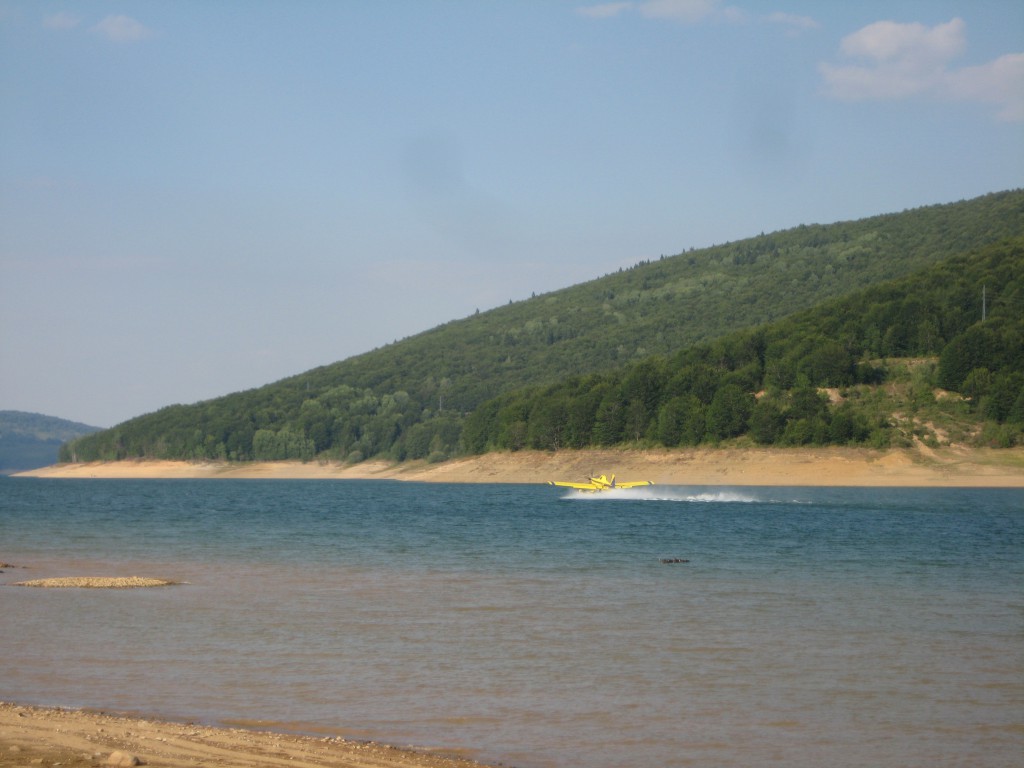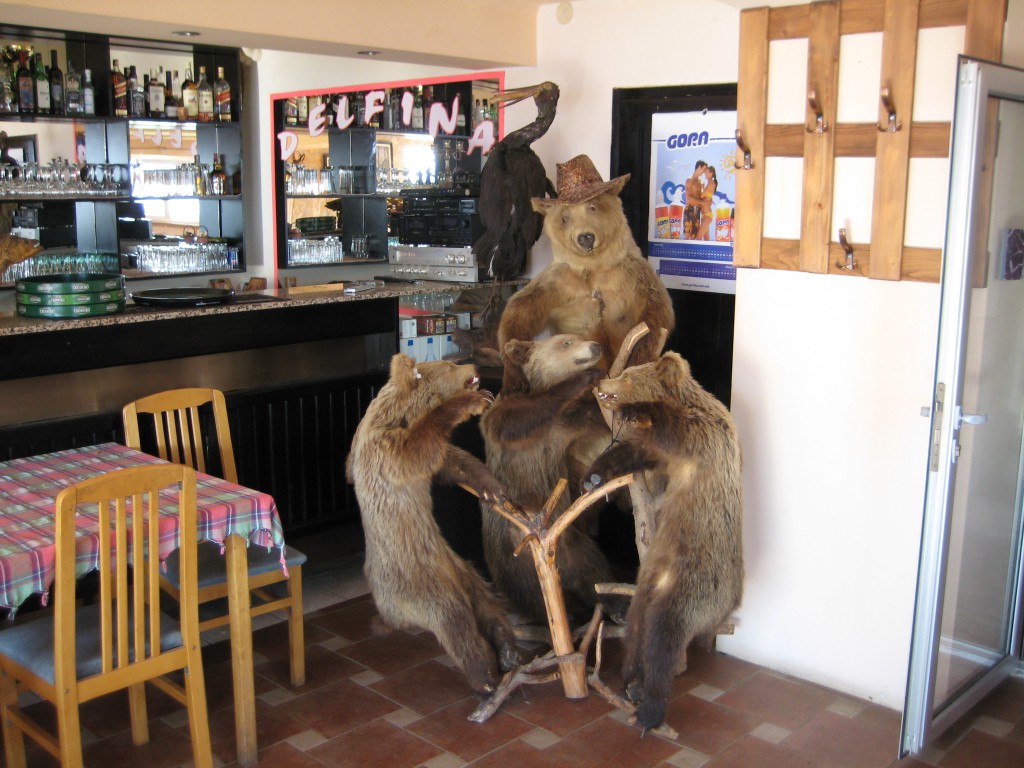 Day 33 19/8/12 Mavrovo to Struga 109km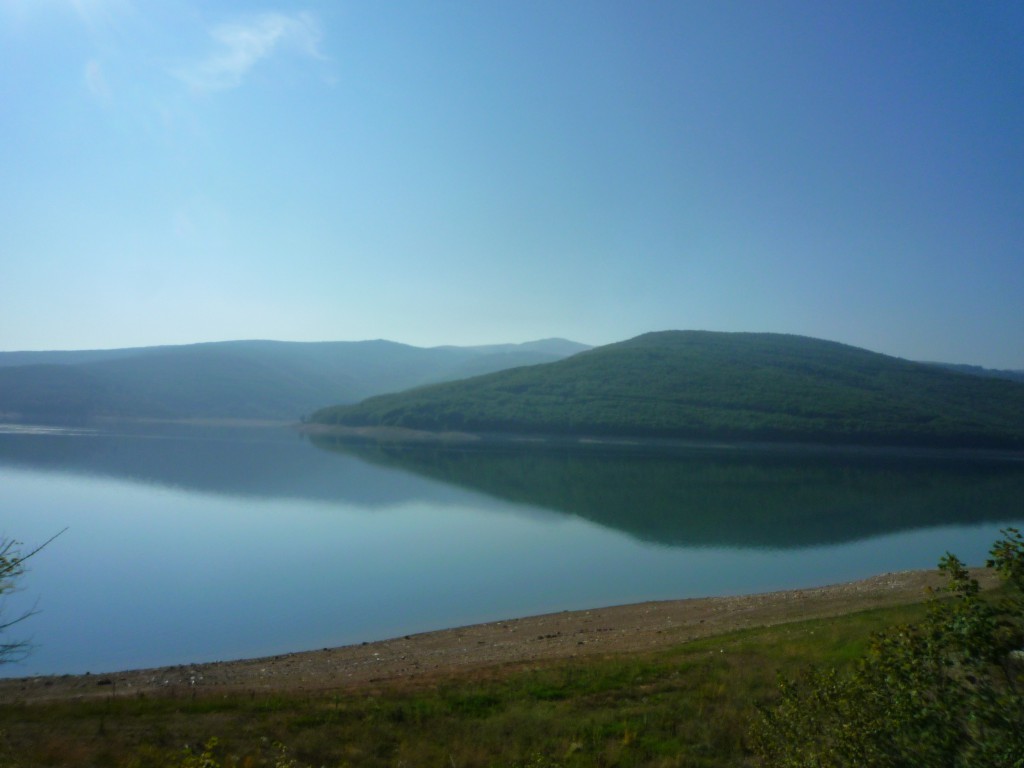 From Mavrovo there was a good descent through the mountains, following the Radika river. We visited the Bigorski monastery near the town of Rostuša. It was very well restored and maintained, with a nice position up a steep hill.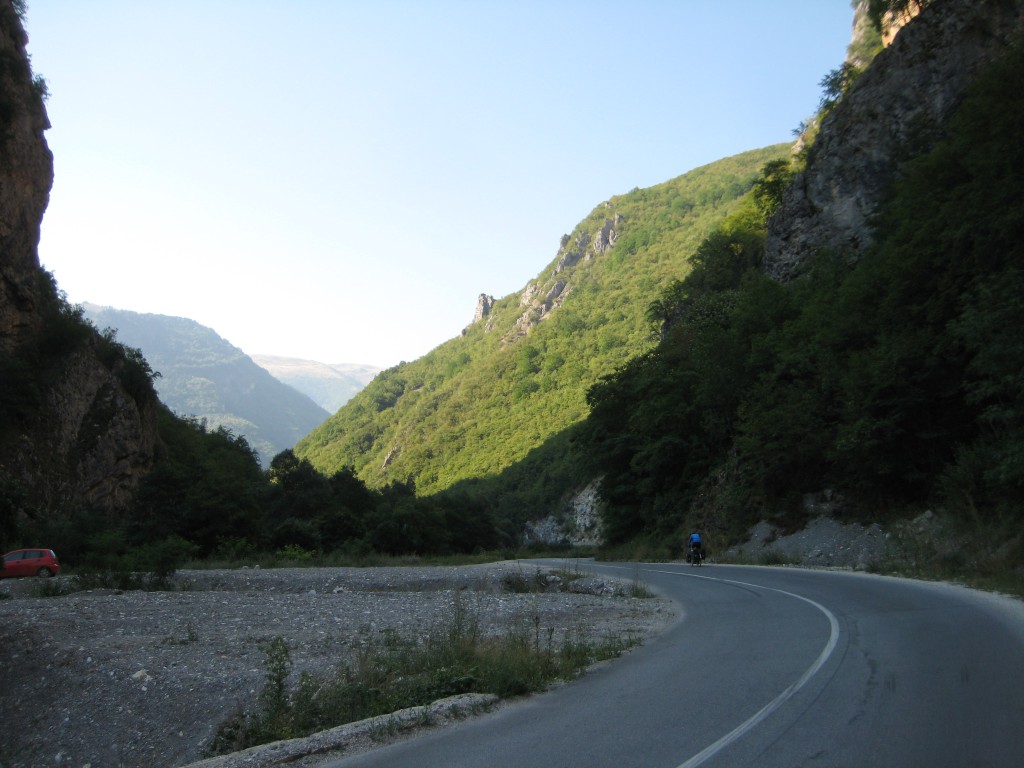 Also close to Rostuša, we hiked out to a nice waterfall. Lots of people were picnicking, although this meant quite a lot of rubbish left too.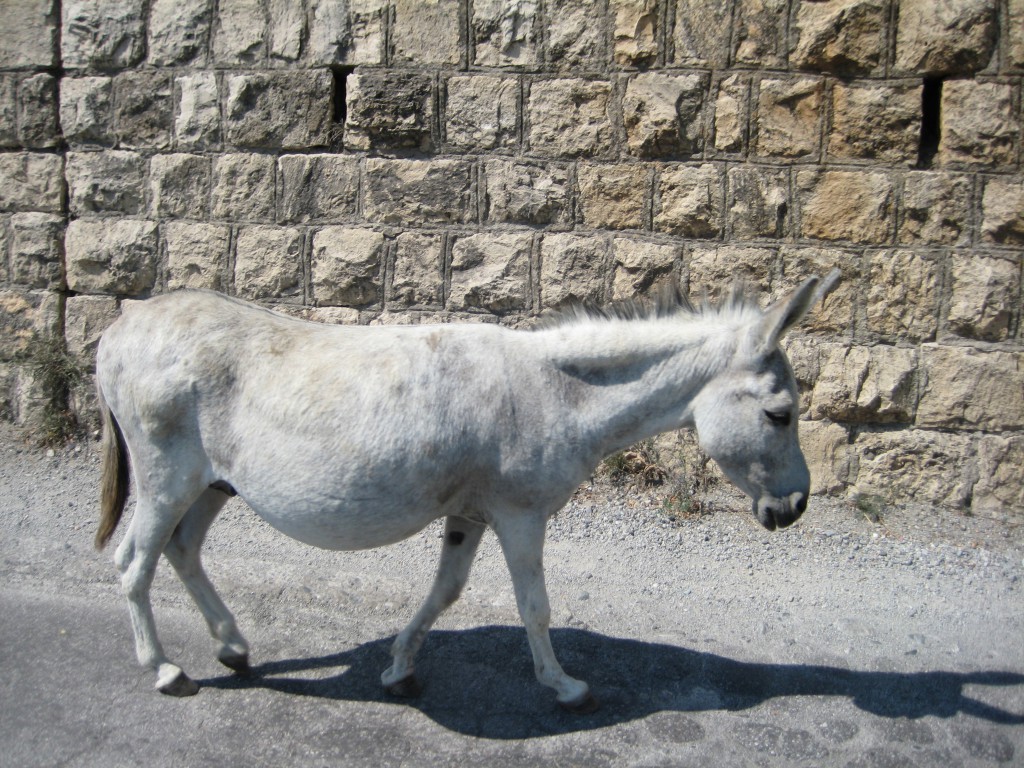 After leaving the Mavrovo National Park we had a few hot hills alongside the river and a couple of dams, before a nice shady road that ran to Struga, on the Lake Ohrid. It is a popular tourist town, with lots of good restaurants and cafes. We spent an extra day here - there wasn't much else to do but eat and lounge around so that's what we did. Rodney managed to eat an entire watermelon in less than two hours, but regretted it a little afterwards.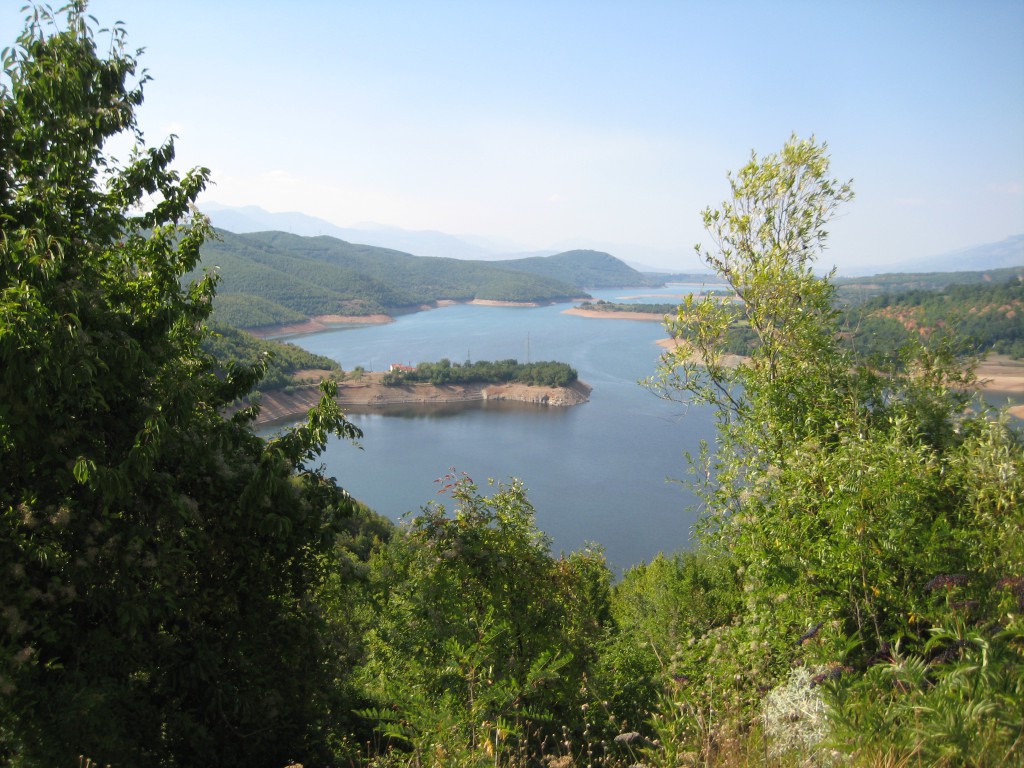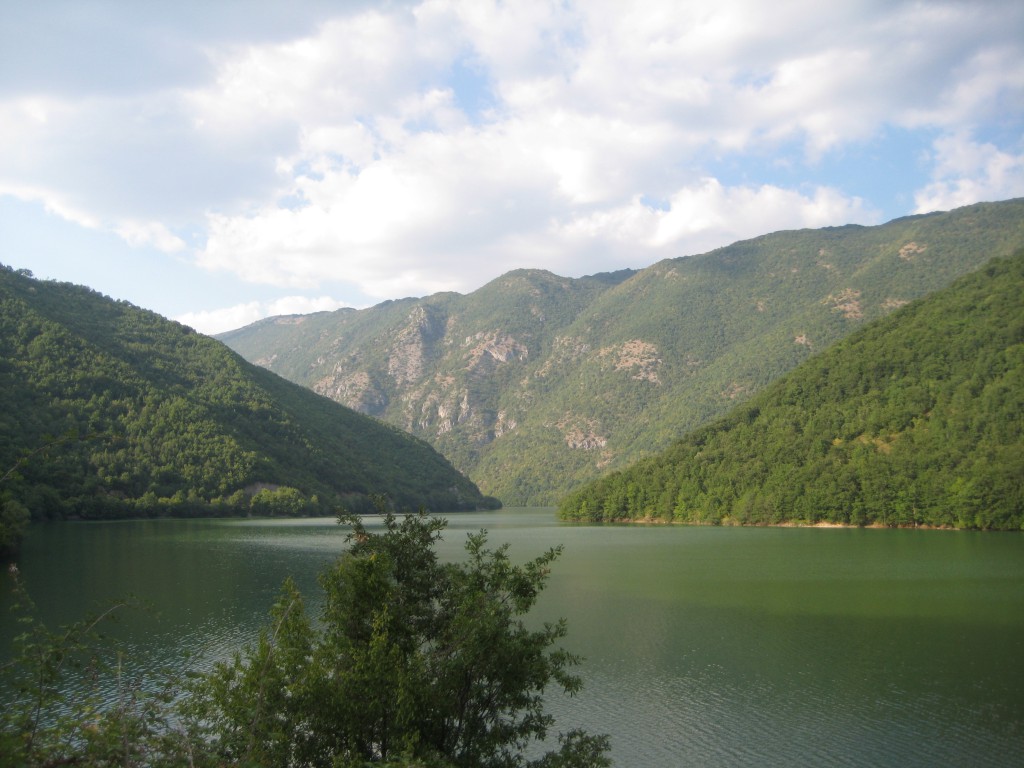 Day 34 21/8/12 Struga to Bitola 122km Big day! We had a nice flat cycle along the shore of Lake Ohrid to the historical town also named Ohrid. It had a fortress on the hill, a cobbled old town and a monastery where we were fortunate to hear a choir singing.
From Ohrid we continued along the lake shore for another 20km or so, including a couple of short steep climbs. From there we turned off and had a climb of a little over 1000m, however the gradient was good, the road often shady and the views really great. SO it was quite enjoyable and nice how it felt cooler as we got higher.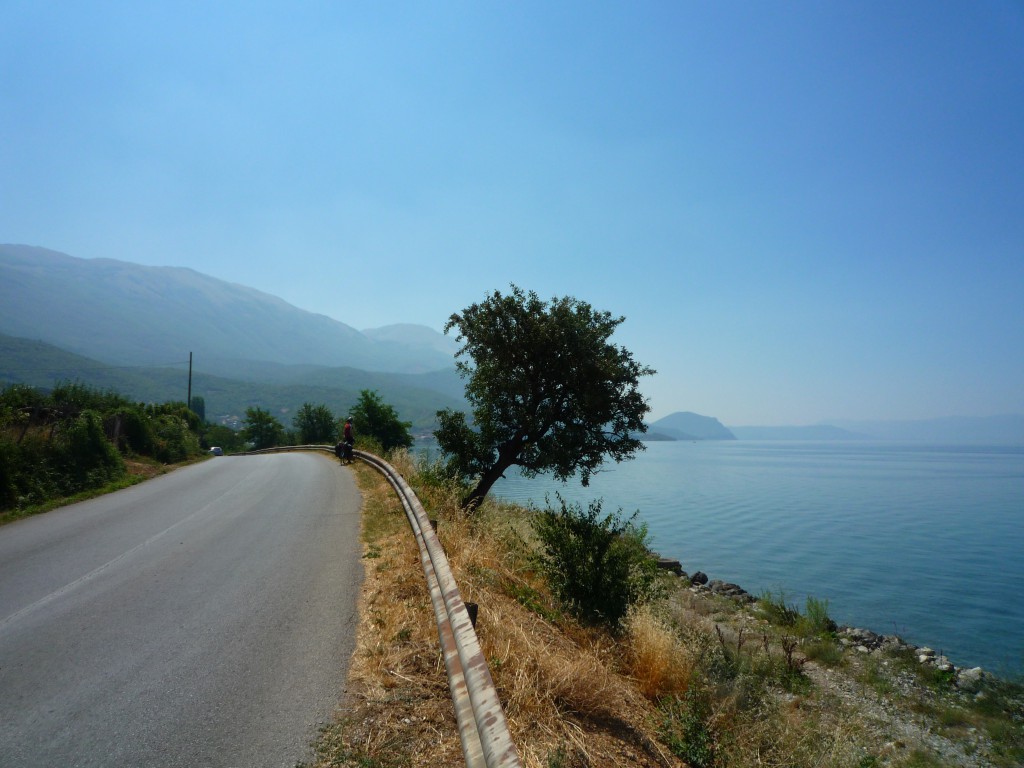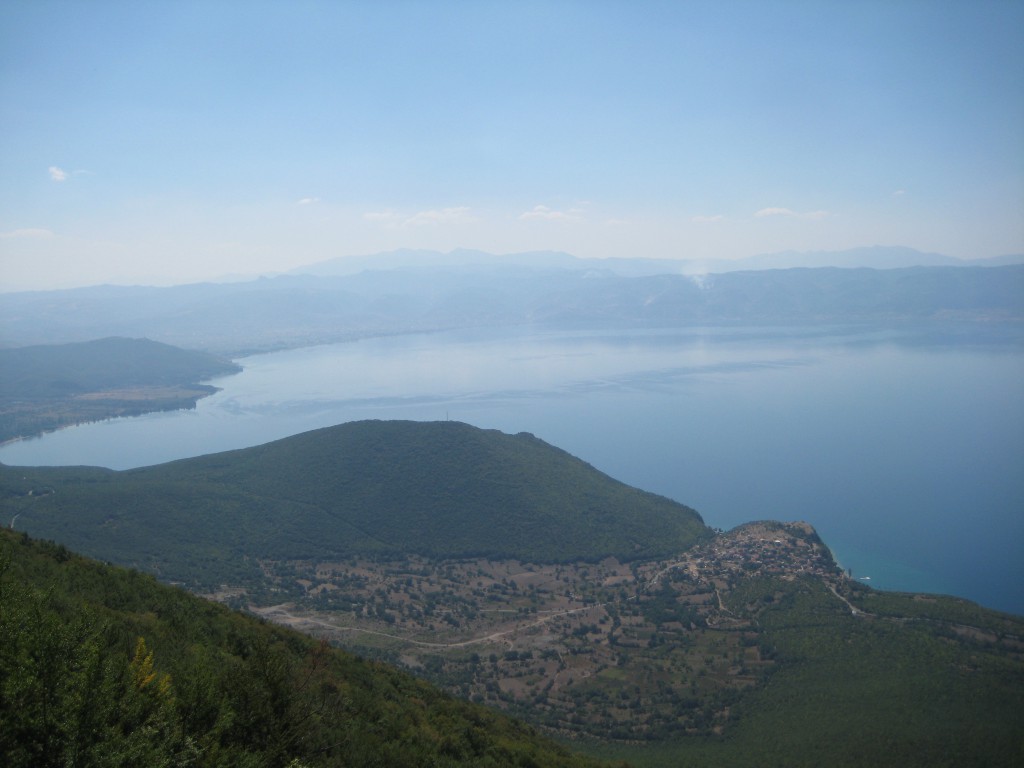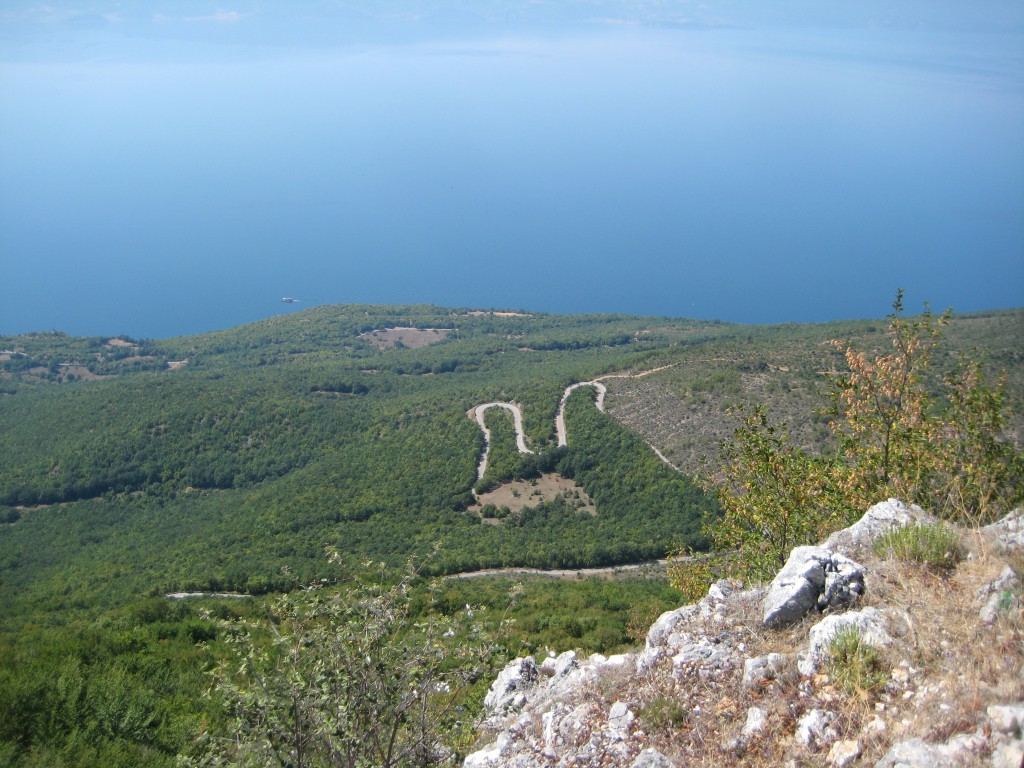 We had a nice descent on the other side to a second lake, Prespa. From there we rode across a plain that was all agricultural land and sleepy little villages. It was hot and we were running low on water so we filled our bottles at a mosque and gave our thanks to Allah.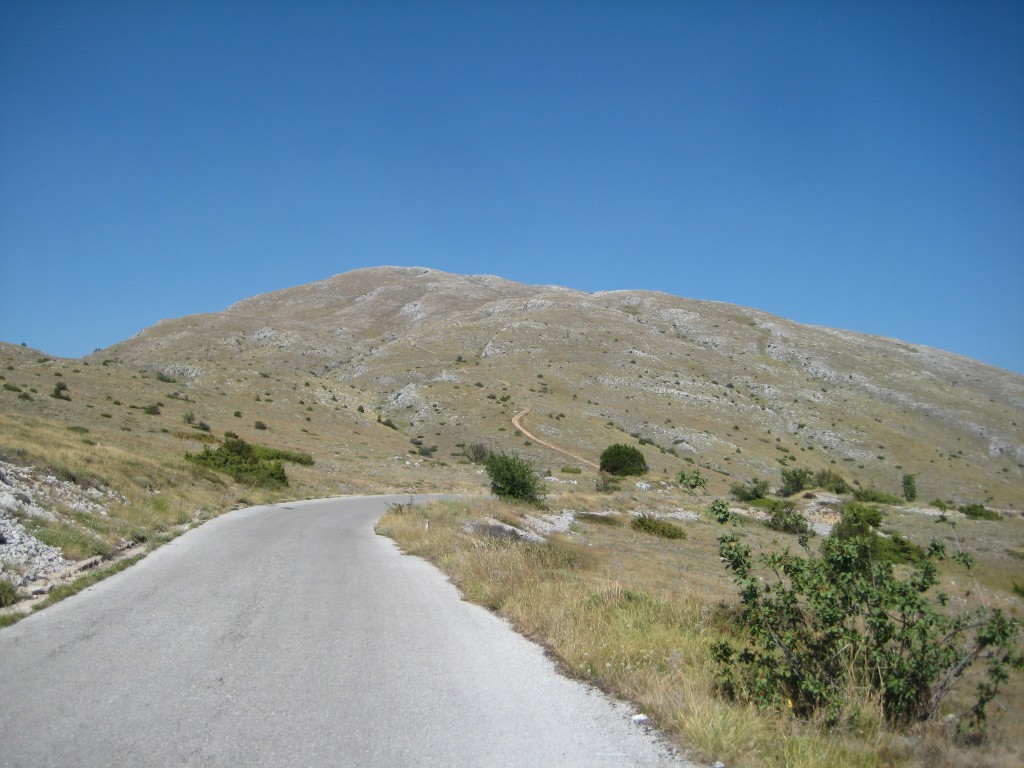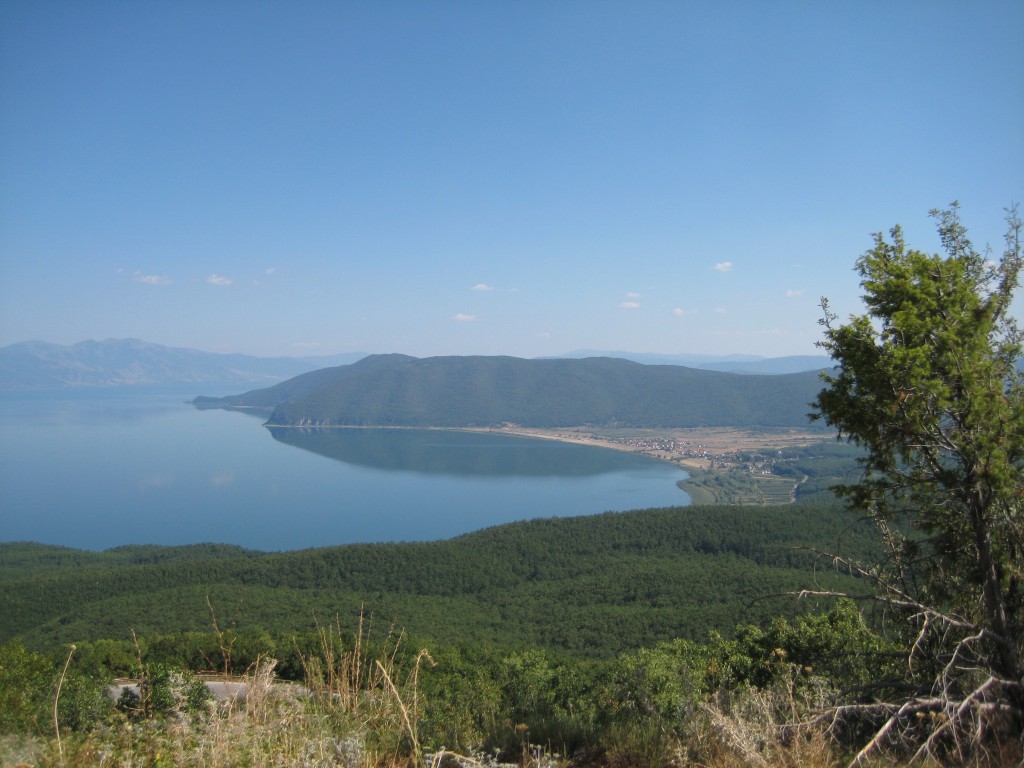 We had the choice of an old road and a new to Bitola - the old was completely cobbled so we opted for the busier, newer motorway. It had a good shoulder though and after another hill we had a fast run into Bitola, which was lucky as it was getting late.
We found a hostel and showered quickly before hitting the centre of town starving and in search of a pizza. Exhausted, we left the bulk of our sightseeing for the next day.
Day 35 22/8/12 Bitola to Edessa 114km
We spent most of the morning looking around Bitola. Apart from a nice central pedestrian street, there were several mosques, a nice clocktower and a few bizaars. On the way out of town we visited the ruins of the ancient city of Heracleas, a Roman settlement that is still being excavated. There were some impressive mosaics and we got to hear the tour guide explain the Macedonian perspective of their quarrel with Greece.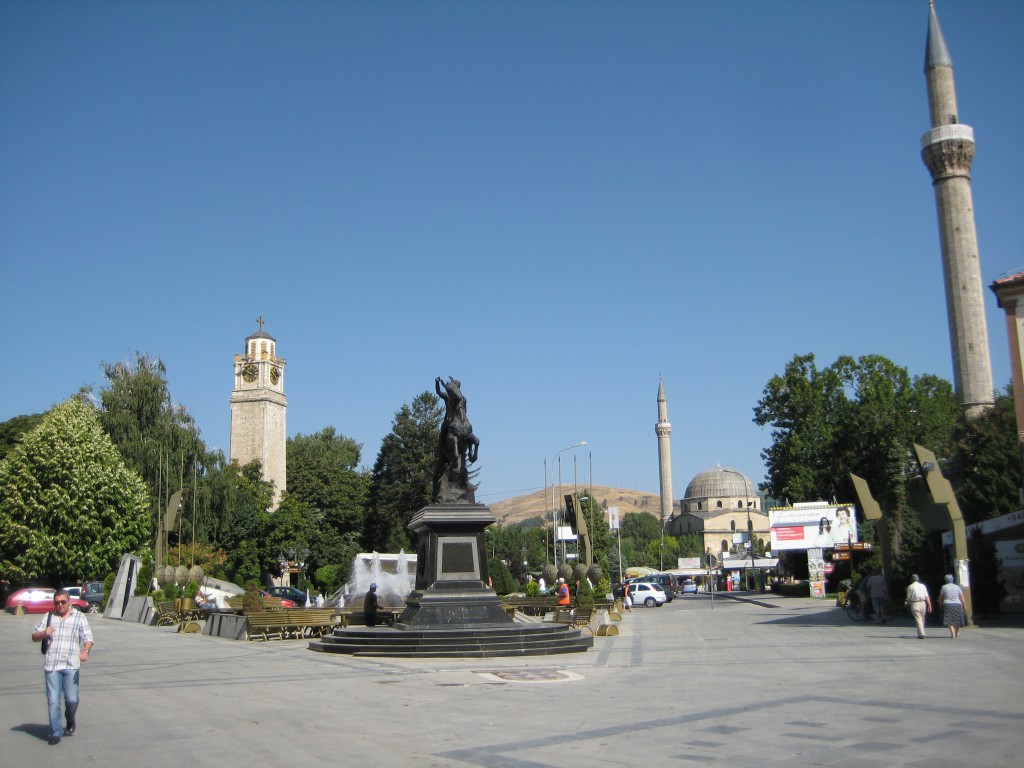 We were looking forward to a shorter day as we were planning to stop in Edessa in Greece. We hadn't yet obtained a map of Greece but our Macedonian hostel host had told us it would be about 60-70km. It ended up well over 100km, although we were given bad directions in one of the towns that added 20 unnecessary kilometres.
So we don't actually have any photos from this part of Greece - although the landscape was beautiful and hilly we didn't have time to stop, racing the sun for the second day in a row to arrive at our destination before dark. There weren't really any alternatives that were closer, although we had the back up option of wild camping.
Once in Edessa, we stopped at an internet cafe quickly to look up accommodation. We ended up at a really quaint little guesthouse run by a woman that is exactly what comes to mind when I think of a little old Greek lady. She seems quite taken with Rodney and gave us a sizable discount.
We had wanted to visit the Meteora monastery from Edessa, so spent an extra day here. It turns out we need to depart from Thessaloniki, which is our next destination. So we spent our day in Edessa looking at the nearby waterfalls and the numerous historical churches in town, as well as a desperately needed wash of our clothes.
The town has a very convivial atmosphere - all of the cafes are full late into the evening. We were stopped on our way into town by a guy already quite merry who wanted to know about our trip. After crunching my hand in one of the strongest handshakes I've ever received he quite emphatically rebuked us, "No no no, not Istanbul! Constantinople! Is Greek city!" We stand corrected.